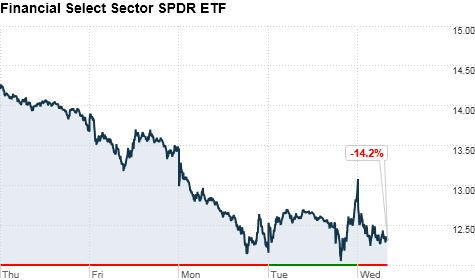 Click the chart to track the Financial Select Sector SPDR ETF.
NEW YORK (CNNMoney) -- The stock market continues to struggle. Yesterday's market rally at the close was short-lived. The S&P 500 (SPX) dropped 2%, and continued to slide in early morning trading Wednesday.
French and German banks stocks are down across the board. Their U.S. counterparts are not faring much better, with the Financial Select Sector SPDR ETF (XLF) stumbling 6%.
Meanwhile, Ralph Lauren (RL, Fortune 500) reported another stellar quarter -- indicating that their customers are alive and well, and still spending. Its stock climbed 8% midday Wednesday, becoming a green oasis in a desert of red.
Macy's (M, Fortune 500) also announced earnings above the estimates. But the market did not respond favorably to the report, and shares of the retailer fell 1% on the news.
These are among the popular themes on StockTwits Wednesday:
jkings1: A new meaning to FRENCH FRIES: SocGen down 12%, BNP and Agricole down over 7%. $DB in Germany also shellacked again down 3%. $SPY
ReformedBroker: Société Générale down 20%, may sell off some of those accents above the vowels...standby. $$
jfahmy: I still see way more "hope" than "fear." More people interested in buying than protecting capital...just my 2 cents. $$
4all5: Based on $M and $RL earnings, it doesn't look like consumer spending is dead.
firstadopter: $RL call: "challenge of near-term economic uncertainty is real."
ivanhoff: I see $RL up 9% on earnings while $SPY is down about 2%. We went from correlation 1.0 to correlation 0.95 market.
crazybobo: $RL...before getting too excited about rl..check their forecast of operating margins...down 300 basis pts!