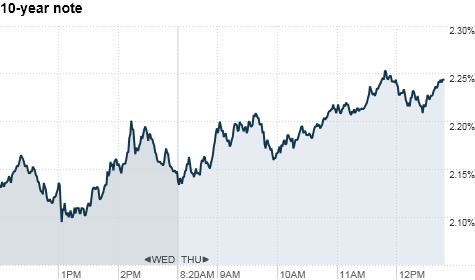 Click the chart for more market data.
NEW YORK (CNNMoney) -- U.S. Treasuries sold off broadly Thursday as investors piled back into equities while also reacting to a disappointing auction for long-dated 30-year bonds.
The price on the benchmark 10-year Treasury note was down sharply, with its yield rising to 2.34% from 2.14% late Wednesday. Bond yields fall as prices rise.
The sell-off in Treasuries comes as Wall Street exited from safe havens such as bonds and gold and returned en masse to equities. The Dow was up more than 350 points in early afternoon trading after plunging 520 points the day before.
Thursday's bond selling accelerated after an auction of 30-year notes, which received an icy reaction from investors. The Treasury Department auctioned $16 billion of 30-year bonds at a yield of 3.75%, well above the 3.62% the security had been trading at earlier in the day.
"There is just too much uncertainty at the long end of the curve," said Matt Toms, head of U.S. public fixed-income at ING Investment Management.
Despite the sell-off, fixed-income investors said Treasury prices should remain high as long as this extreme market volatility continues. Only a day before, the Treasury Department was able to auction $24 billion in 10-year notes at a record low yield of 2.14%.
"People are only thinking 'flight to quality' right now," said Kenneth Naehu, managing director of fixed income at Bel-Air Capital Management.
Along with the volatility, investors continue to digest the Federal Reserve's policy statement on Tuesday. The central bank said it planned to keep interest rates at near-zero levels through at least 2013. The Fed had said publicly for a while that it would keep interest rates low "for an extended period of time," but this was the first time the central bank put a date on what "an extended period of time" actually meant.
"Basically, bond investors should forget about the next two years," Toms said. "Cash is going to return zero, the five-year bond becomes the new two-year bond, and the two-year bond becomes the cash rate."
Treasury prices should remain high because investors continue to view the government bonds as a market of last resort in a time of uncertainty, despite Standard & Poor's downgrade of the U.S. credit rating nearly a week ago.
"There are no alternatives for bond investors to turn to," Toms said. "The dollar is the 'least bad' currency."
Toms said the downgrade did not create new "fear" of a U.S. default now that the world's largest economy no longer has a AAA rating. Instead, he believes the downgrade may be a net positive for Treasuries in the long term.
"It forces the government into action, take more meaningful austerity measures than officials probably would have taken," he said.