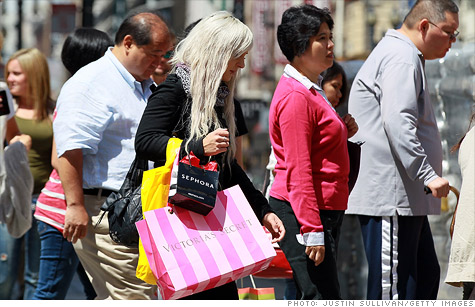 American consumers hit the stores in July, giving retail sales a modest boost in the month.
NEW YORK (CNNMoney) -- Americans boosted their shopping in July, allaying -- for now -- fears of a consumer slowdown that might stall the economy.
Retail sales rose 0.5% last month, aided by auto purchases, gasoline station sales and a jump in purchases of electronics, the Commerce Department said.
Economists had expected a 0.5% gain, according to consensus estimates from Briefing. com, compared to a 0.1% gain in the previous month.
Given that July is a key month for back to school shopping -- the second most important sales event of the year after Christmas -- the fact that registers were ringing last month should also provide some comfort that consumers are ready and willing to spend when it matters.
Industry watchers said the July retail sales will help ease growing concerns that consumer spending is losing momentum.
Those concerns were heightened after the government released its latest economic growth report last month that showed consumers shut their wallets in the second quarter, causing the U.S. economy to grow at a tepid pace.
"The 0.5% rise in retail sales values supports our view that there will be at least some rebound in GDP growth in the third quarter and that another recession will, in all likelihood, be avoided," Paul Dales, senior U,S. Economist with Capital Economics, wrote in a note Friday.
Gross domestic product, the broadest measure of the nation's economic health, rose at an annual rate of 1.3% in the second quarter.
Growth in consumer was very mediocre, and picked up only 0.1% in the second quarter -- marking a significant slowdown from growth of 2.1% in the first three months of the year.
A shutdown in consumer spending is particularly bad for the economy and its recovery since it accounts for two-thirds of all economic activity.
"At a time when fears of another recession have risen, the news that underlying [July] sales are rising offers some comfort," said Dales.
Wells Fargo economist Mark Vitner said the government's retail report was a "welcome development that allays concerns about a double-dip recession."
"In just the past few weeks, fears of a double-dip recession, coupled with congressional wrangling over the debt ceiling debate and the downgrade of U.S. Treasuries, have combined to make financial markets highly volatile," he said.
"Today's retail sales report strikes a more positive tone, signaling a strong start for third-quarter consumer spending growth," Vitner added.
The overall July sales number was helped by a moderate 0.4% gain in auto purchases.
Sales excluding autos and auto parts were up a better-than-expected 0.5% in July, bolstered by a 1.6% rise in gasoline station sales and a 1.4% gain in gadget purchases sparked by back-to-school shopping that took place in the month.
Economists surveyed by Briefing.com had forecast store sales, excluding auto purchases would be up 0.2%. Sales excluding auto purchases were unchanged in the prior month.
Retailers did their part last month to entice shoppers into stores. The National Retail Federation, the industry's main trade group, said timely deals and discounts from merchants "hit the right chord with back-to-school shoppers, helping ease concerns that consumers were pulling back on spending."
Shopping for school-related items also contributed to a 0.5% increases in clothing sales and a 0.5% rise in furniture sales. Sales at food and beverage sales rose 0.5%.
These gains also seemed to coincide with retailers' own same-store sales numbers from earlier this month that showed robust gains in sales at discount, department and some specialty retailers in July.
Same-store sales reflect sales at stores open at least a year and are a key indicator of a retailers' performance.
"Consumer spending reflects the confidence of the American people, and despite recent economic turbulence, we're still seeing widespread growth in spending," Acting U.S. Commerce Secretary Rebecca Blank said in a statement on Friday.
However, the government report did show some sales weak spots. Among them, building materials sales slumped 0.4%, sales at sporting goods, hobby, book and music stores fell 1.5%, and department store sales also fell 0.8% last month.