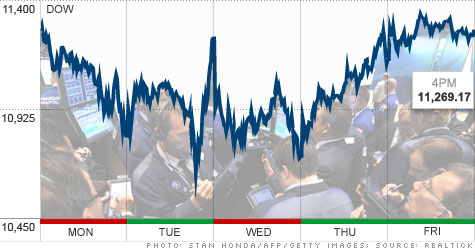 The Dow has spent most of August swinging violently -- and this week isn't likely to be an exception. Click the chart for more market data.
NEW YORK (CNNMoney) -- Brace for more turbulence.
This week could be just as bumpy as last week's wild ride, as Wall Street continues to deal with the fallout of S&P's downgrade, the problems in Europe and the fate of the U.S. economy.
"Investors are grappling with two primary questions: Will the U.S. slip into another recession, and will the euro survive?," said Hans Olsen, head of Americas investment strategy for Barclays Wealth, a division of Barclays Capital.
On the issue of the euro, the main event will be German Chancellor Angela Merkel's meeting with French President Nicolas Sarkozy in Paris on Tuesday.
The stakes have never been higher for the eurozone and the leaders of the euro's two largest economies. Speculation is building about whether Italy and Spain have unsustainable debt levels -- and whether European officials have the political power necessary to save the 12-year old currency, possibly through some some sort of "pan-European" bond fund.
To further complicate things, there are growing concerns France may lose its own "AAA" credit rating following Standard & Poor's downgrade of the United States last week. It was in part these fears that caused the Dow to plunge 520 points on Wednesday
"The short-term danger to the markets is a credit crisis in Europe," said Bruce McCain, chief investment strategist with Key Private Bank.
Here in the U.S., investors will get another wave of economic data and several closely watched earnings results, mostly out of the retail and technology sectors. Investors say the bigger economic reports to be on the lookout for this week are Wednesday's industrial production figures as well as July's inflation data.
Expect stocks to remain volatile. While the three major stock indexes ended the week down an average of 1.5%, investors were rocked by four straight days of nauseating market moves. The VIX (VIX) -- Wall Street's so-called "fear index" -- hit a level last week not seen since early 2009.
The market's massive volatility may have, in itself, caused long-term damage to consumer confidence.
"I suspect that investors are suffering headline fatigue and are voting with their feet," Olsen said.
On the Docket:
Monday -- Investors will get the Empire Statement manufacturing index at 8:30 a.m. ET. The manufacturing survey fell into negative territory in July, which means manufacturing activity contracted during the period. Investors will be looking to see if that trend continues for a second month.
Economists surveyed by Briefing.com expect the Empire State index to stay negative, coming in at a reading of -0.4.
Retailers will be reporting their results throughout the week. On Monday, Urban Outfitters (URBN) and home improvement chain Lowe's (LOW, Fortune 500) will report their results. Analysts expect that Lowe's earned 66 cents a share and Urban Outfitters earned 32 cents a share.
Tuesday -- The Federal Reserve's July industrial production figures will be released at 9:15 a.m. ET. Economists forecast that industrial production picked up by 0.4% last month, a slight increase from the 0.2% increase in June.
Other economic reports out on Tuesday include July housing starts and building permits, as well as import/export prices and capacity utilization figures.
Three big companies will report their results on Tuesday: Wal-Mart (WMT, Fortune 500), Home Depot (HD, Fortune 500) and PC maker Dell (DELL, Fortune 500).
Wal-Mart, the world's largest retailer, is expected to report a profit of $1.08 a share when it reports before the opening bell. Home Depot is expected to earn 83 cents a share.
Dell, which reports after the bell, should post a profit of 49 cents a share, according to analysts surveyed by Thomson Reuters.
Wednesday -- Before the bell, Wall Street will get earnings results from farm equipment maker Deere (DE, Fortune 500), which is expected to earn $1.67 per share, as well as discount retail chain Target (TGT, Fortune 500), expected to earn 97 cents a share.
The Labor Department will release its July producer price index, also known as wholesale inflation, at 8:30 a.m. ET. Economists expect July PPI was flat, after being down 0.4% in June.
Thursday -- Investors will get weekly jobless claims and the July consumer price index from the Labor Department at 8:30 a.m. ET. Weekly jobless claims are expected to by 5,000 claims to 400,000. Inflation is expected to remain tame, rising 0.2% after falling 0.2% in June.
Dow component Hewlett Packard (HPQ, Fortune 500) reports its quarterly results after the closing bell on Thursday. Analysts are looking for the tech giant to post a profit of $1.09 per share.
Other companies reporting on Friday include Gap (GPS, Fortune 500), Sears Holdings (SHLD, Fortune 500) and video game retailer GameStop (GME, Fortune 500).
Friday -- There are no company reports or economic data for investors to work through on Friday.