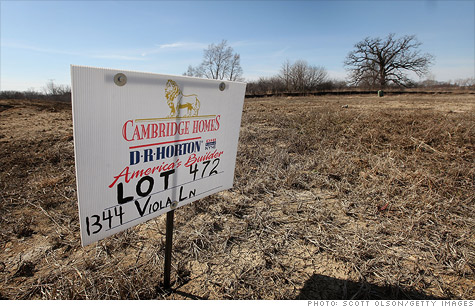 A vacant lot is offered for sale in a single-family housing development. Building permits, a leading indicator for the strength of the housing industry, fell 3.2% in July.
NEW YORK (CNNMoney) -- After showing some strength just a month before, new home construction slumped in July, according to two key measures released by the government Tuesday.
Housing starts, the number of new homes being built, fell 1.5% to an annual rate of 604,000 units during the month, the Commerce Department said.
The government report also showed permits to build new homes, a proxy of future construction activity, fell 3.2% during the month to an annual rate of 597,000 units.
The declines come after both housing measures ticked up more than expected in June.
A large stock of cheap foreclosed homes continues to lessen demand for new construction and depress home prices.
"Foreclosures are competing not only with the builder, but against the potential new homebuyer who can't sell their home either," said David Crowe, chief economist for the National Association of Home Builders.
In this environment, rents are rising and home builders are seeing more opportunity to construct multi-family homes and apartment buildings.
Construction of buildings with five units or more rose 6.3% in July, while construction of single-family homes plunged 4.9% from month-to-month.
"We have an increase in renters, and they're not stymied by credit issues, so we need to add rental units to answer that demand," Crowe said.
Demand for mortgages has been weak recently, and at the same time tight credit standards have also been restricting potential homebuyers from successfully taking out mortgages.
According to a separate report issued Monday by the Federal Reserve, banks have kept those standards largely unchanged for at least three straight quarters, after tightening them in the recession.
Not surprisingly, a recent industry reading on homebuilder confidence remained at 15 in August, indicating builders view their current business conditions as very poor.
Meanwhile, other Fed data show consumers have been cutting back on mortgage debt for nine of the last 10 quarters.
Over the last year, housing starts are still up 9.8% and building permits are up 3.8%.