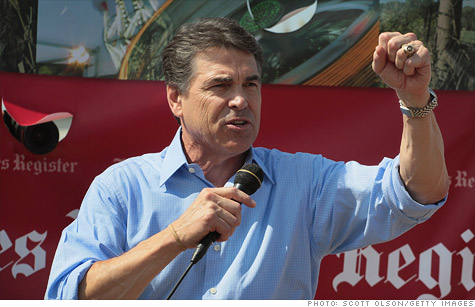 Texas Governor Rick Perry says a stimulative move by Fed Chairman Ben bernanke would be "treasonous."
NEW YORK (CNNMoney) -- Texas Governor Rick Perry told CNN on Tuesday that he stands by his comment that it would be "treasonous" if Chairman Ben Bernanke tried to use Federal Reserve policy to stimulate the economy before the election.
On Tuesday, Perry clarified his comment to CNN's Peter Hamby: "I am just passionate about the issue and we stand by what we said."
During an appearance Monday in Cedar Rapids, in what appeared to be a backyard, Perry invoked folksy language to explain what he'd like to do to Bernanke if the chairman decides to engage in more quantitative easing.
A reporter asked Perry what he would do about the Federal Reserve.
Standing next to a "Perry President" sign, the governor replied, "If this guy prints more money between now and the election, I don't know what y'all would do to him in Iowa, but we would treat him pretty ugly down in Texas."
"I mean, printing more money to play politics at this particular time in American history, is almost treacherous, or treasonous, in my opinion," he added.
A Federal Reserve spokesman said the central bank had no comment.
Perry officially launched his presidential campaign Saturday. Slamming President Obama on the stagnant U.S. economy has served as the centerpiece of his campaign so far, and he has touted his own state as the "epicenter of job growth."
Perry kicked off his campaign after the stock market completed one of its most volatile weeks ever. The stagnant job market and the deficit have also taken center stage, with unemployment at 9.1%.
Congress took so long to raise the debt ceiling that it prompted Standard & Poor's to downgrade U.S. debt. The resulting stock volality has fed fears of a potential double dip recesssion.
Meanwhile, the Federal Reserve recently decided to keep rates "exceptionally low" through 2013, stemming from Bernanke's less-than-bullish outlook on the economy.
-- CNN's Peter Hamby in Dubuque, Iowa, contributed to this story.