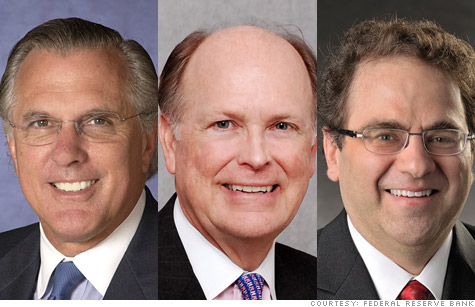 Regional Fed presidents Richard Fisher of Dallas, Charles Plosser of Philadelphia, and Narayana Kocherlakota of Minneapolis formally voted against the Fed's monetary policy decision last week.
NEW YORK (CNNMoney) -- Three Federal Reserve officials are starting to speak out about why they disagree with Chairman Ben Bernanke on the central bank's latest policy move.
The Federal Reserve decided last Tuesday to leave interest rates exceptionally low until at least 2013 -- a dramatic move considering the Fed doesn't typically give hints, let alone outright time frames, for monetary policy that far in advance.
The decision was immediately interpreted by critics as a sign that the Fed believes weakness in the U.S. economy will persist for at least two more years.
Three regional Fed presidents, Richard Fisher of Dallas, Narayana Kocherlakota of Minneapolis and Charles Plosser of Philadelphia, formally voted against the decision, marking the first time since 1992 that a Fed policy has drawn that much internal disagreement.
Now those three dissenters are making their opinions publicly known.
In a speech Wednesday, Fisher said he didn't think it was a wise move, and Plosser told Bloomberg Radio he felt it was "inappropriate." Last week, Kocherlakota said he saw no need for additional accommodative policy beyond what the Fed had already enacted in November of last year.
As the latest dissenter to speak up, Fisher said he disagrees with committing to low rates for two years because access to cheap cash is simply not the problem facing the U.S. economy.
The Federal Reserve has kept interest rates low already since 2008. Low rates are thought to spur the economy by making it cheaper for banks, businesses and consumers to borrow money.
But Fisher argues that at this point, banks and businesses don't necessarily want to borrow more money. They're already sitting on an abundance of cash.
"The banking system is awash with liquidity," he said. "These excess bank reserves are waiting on the sidelines to be lent to businesses."
Instead, Fisher says businesses that could potentially create jobs are paralyzed by uncertainty coming from lawmakers in Washington D.C. Consumers, for the same reason, are holding back on spending, he said.
"I would suggest that unless you were on another planet, no consumer with access to a television, radio or the Internet could have escaped hearing their president, senators and their congressperson telling them the sky was falling," he said. "It does not take much imagination to envision consumers deciding to forego or delay some discretionary expenditure they had planned."
Signaling that rates aren't going up anytime soon can only make the problem worse by allowing businesses and consumers to delay their spending decisions, Fisher explained.
Fisher also disagreed with the decision because it coincided with a major drop in stock markets, which he fears some critics will misinterpret as move to protect the interest of investors.
"My long-standing belief is that the Federal Reserve should never enact such asymmetric policies to protect stock market traders and investors," he said.
Speaking to Bloomberg Radio earlier Wednesday, Plosser echoed similar thoughts, saying it's also "a big mistake" for the Fed to be viewed as a lifeline if Congress and the White House can't agree on a way to stimulate the economy.
Kocherlakota issued an official statement on Friday saying he made his dissenting vote based on the latest inflation data. That data show inflation has risen in the first half of the year, and because low interest rates can fuel higher inflation, Kocherlakota is cautious of committing to them until 2013.