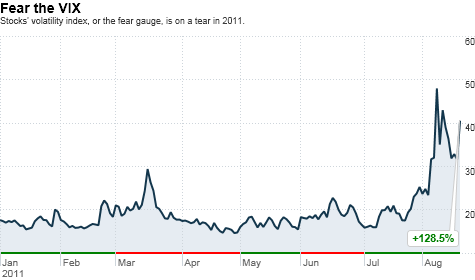 Click the chart for more on VIX.
NEW YORK (CNNMoney) -- Wall Street's key measure of volatility, the VIX, soared 35% Thursday following a quartet of downbeat economic reports and a dour outlook from Morgan Stanley.
The CBOE Volatility index (VIX) jumped to close at 42.7 as all three major U.S. stock indexes plummeted. A VIX reading higher than 30 is considered a sign that investors are getting worried.
A gloomy report from Morgan Stanley renewed fears about a slowing global economic recovery, sending markets lower across the world. The bank warned that the U.S. and Europe were "hovering dangerously close" to a recession over the next 6 to 12 months.
Perhaps most damning, Morgan Stanley said "policy errors" in both the U.S. and Europe had led to the global downgrade. However, the bank did say any recession would not be as severe as the one that crippled world economies in 2008.
European markets took a dive on the news, setting the stage for a sour U.S. stock open. Then four stateside reports delivered even more bad news. Jobless claims, home sales, inflation and Philadelphia regional manufacturing activity all fared worse than had been expected.
Stock indexes -- and the VIX itself -- have seesawed over the past several days. Trading volumes began soaring after Standard & Poor's downgraded the U.S. credit rating, and a flurry of news since then has sent stock indexes swinging hundreds of points in both directions.
Those wild intraday and day-to-day moves have put investors, and the VIX, into a tizzy. The fear gauge hit a two-year high last week at 48 after the S&P downgrade.
Year-to-date, the VIX is up more than 140%. But even at recent highs, the fear gauge is still way below the peak level of almost 90 hit in October 2008 -- after Lehman Brothers collapsed.