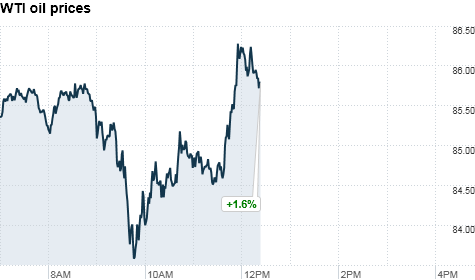 Click chart for more on U.S. crude prices
NEW YORK (CNNMoney) -- Oil prices jumped 2% Tuesday as investors put Libya's turmoil on the back burner and focused on the stock market rally.
Price had been seesawing on either side of breakeven as fighting in Tripoli raged between rebels and loyalists to Libyan dictator Moammar Gadhafi.
On Monday, prices eased as it appeared Libya was on the brink of a regime change. Many had hoped the toppling of Gadhafi would pave the way for Libya to resume oil production quickly.
But Gadhafi has failed to materialize and Tuesday's reports have been conflicting about the rebels' ability to capture his sons and the capital city.
"Put all that together and everybody kind of sits on their hands," said Dan Dicker, oil trader for 25 years and author of Oil's Endless Bid: Taming the Unreliable Price of Oil to Secure Our Economy.
U.S. crude prices rose $1.75 to $86.18 per barrel in Tuesday's session. Brent crude -- Europe's benchmark -- rose $1.07, or 1%, to $109.43 per barrel.
Before the civil war in February, Libya was producing about 1.8 million barrels per day. That was only 2% of global production, but the country produces a high-quality oil requiring minimal refining that traders refer to as "Cadillac" grade.
The uncertainty led investors to turn their attention to U.S. stocks, which were staging a big rally Tuesday. "When you have stocks rallying big, you generally see oil go with it," he said.
Dicker said the rally was being fueled by hedge funds buying up oil stocks such as Exxon Mobil (XOM, Fortune 500), Chevron Corp., (CVX, Fortune 500) Anadarko Petroleum (APC, Fortune 500), Chesapeake Energy Corp. (CHK, Fortune 500)
Traders also shifted their focus to Federal Reserve Chairman Ben Bernanke, who will be speaking at the Kansas City Federal Reserve Bank meeting at Jackson Hole, Wyo., on Friday.
"The bottom line is that everybody is waiting for Jackson Hole," said Peter Beutel, of energy risk management firm Cameron Hanover. He said Bernanke was a "10" on a scale of importance to the oil market this week, compared with a "3" for Libya.