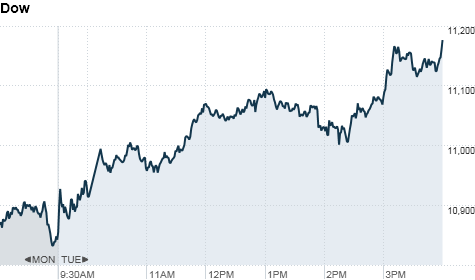 Click the chart for more market data.
NEW YORK (CNNMoney) -- U.S. stocks posted major advances on Tuesday, following a report from the FDIC that showed the number of failing banks shrank for the first time in nearly five years.
Stocks were also lifted by a surge in the price of oil, which rose more than 2% -- helping to boost the energy sector, most notably Exxon Mobil (XOM, Fortune 500) and Chevron (CVX, Fortune 500).
Oil for October delivery gained $1.02, or 1.2%, to settle at $85.44 a barrel.
The Dow Jones industrial average (INDU) advanced 322 points, or 3%, to close at 11,177. The S&P 500 (SPX) added 38 points, or 3.4%, to 1,162; and the tech-heavy Nasdaq Composite (COMP) gained 101 points, or 4.3%, to 2,446.
Investors felt more comfortable taking on risk and exited their safe haven positions in gold and U.S. Treasuries. Gold was down more 3% after hitting a record high earlier in the day, while the yield on the benchmark 10-year note rose to 2.13% from 2.09% on Monday.
"Investors are little more emboldened to re-enter the stocks since it looks like Europe has quieted somewhat," said Michael James, senior equity trader with Wedbush Morgan Securities.
Investors said Tuesday's rally should not be looked at as a pivotal change in the direction of the market, saying the concerns about a U.S. economic slowdown and a European debt crisis -- the catalysts for the original sell off more than a month ago - remain unresolved.
"We may be up 300 points today, but remember we're still down four weeks in a row," said Art Hogan, managing director at Lazard Capital Markets.
U.S. stocks rose modestly Monday, as investors grappled with an uncertain economic outlook ahead of a key speech by Federal Reserve chairman Ben Bernanke.
Bernanke's speech will be given at the Kansas City Fed's annual retreat in Jackson Hole, Wyo., Friday morning.
At last year's meeting, the Fed chief prepared the market for QE2 -- a bond-buying program that is widely credited for supporting stocks earlier this year.
"It's possible we'll see the Fed pull a rabbit out of its hat again this year," Hogan added.
Bank stocks: Beaten-down Bank of America (BAC, Fortune 500) was under pressure once again, with shares falling 2%.
Financial stocks have been getting hammered over the past month on concerns that the U.S. economy may be slipping into a recession and that some banks may have to raise additional capital.
Bank of America has been the focus of a lot of investors' attention in particular. Its shares hit a new 52-week low earlier in the session before turning around.
"The fear, whether it's real or unsubstantiated, is that BofA will have to raise capital in the near future," James said.
But traders embraced a little bit of positive news out of the financial sector, after the FDIC said its list of problem banks got smaller for the first time since the financial crisis, falling by 23 institutions to 865.
Companies: Swiss bank UBS (UBS) announced plans to trim 3,500 jobs by the end of 2013 as part of cost-cutting measures. Shares rose about 5%.
Shares of Apple (AAPL, Fortune 500) rose 5% after Reuters reported that the company's suppliers were building a cheaper version of the iPhone 4, citing unnamed sources. Reuters also said Apple is aiming to launch the iPhone 5 by the end of September.
Also tied to the Apple news, shares of Sprint (S, Fortune 500) rallied 10% on Tuesday on reports that Apple was going to bring an iPhone model to Sprint's PCS network.
Economy: The Commerce Department said new-home sales declined by 0.7% to an annual rate of 298,000 in July, marking the third straight month of declines. The figure was also slightly below forecasts.
Currencies: The dollar fell against the euro, the Japanese yen and the British pound.
World markets: European stocks posted modest advances on Tuesday. Britain's FTSE (FTSE) 100 rose 0.7%, the DAX (DAX) in Germany added 1.1% and France's CAC (CAC) 40 climbed 1.1%.
Asian markets ended higher. The Shanghai Composite increased 1.5%, the Hang Seng in Hong Kong jumped 2% and Japan's Nikkei rose 1.2%.