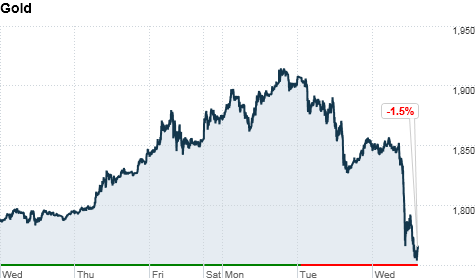 Click the chart to track gold and other commodities.
NEW YORK (CNNMoney) -- Gold prices dropped sharply Wednesday after a surprisingly strong report on new orders for durable goods dashed hopes of more easing from the Federal Reserve.
Gold futures for December delivery tumbled $95.80, or 5.1%, to settle at $1,765.50 an ounce -- the lowest level in a week.
The retreat comes after a powerful rally in the gold market sent prices skyrocketing above $1,900 an ounce earlier this week. Gold started the year just above $1,400 an ounce.
Investors have been flocking to the precious metal for weeks as global economic and debt concerns have weighed on riskier assets such as stocks. Gold is seen as a safe-haven asset and prices tend to spike when investors get nervous.
More recently, the rally has been driven by expectations that the Federal Reserve would signal additional steps to support the economy, said Joe Foster, a portfolio manager for the Van Eck Global gold mutual fund.
Fed Chairman Ben Bernanke is scheduled to make a highly anticipated speech Friday at the Kansas City Fed's annual retreat in Jackson Hole, Wyo.
The expectation, said Foster, is that the Fed will be forced to print more money to fund its activities, which would further undermine the U.S. dollar and make gold more attractive.
But a big jump in new orders for durable goods in July put a damper on those hopes Wednesday.
The Commerce Department said orders for durable goods rose 4% in July, after slipping 1.3% the previous month. Economists were looking for just a 1.9% rise in orders.
"The market thinks the strong durable goods number makes a Fed move less likely," said Foster.
Such a large increase in durable goods orders would normally suggest that consumers and businesses are feeling more confident. But the jump last month was driven largely by orders for aircraft and vehicles.
"So there is no definitive recession read from these durable orders numbers for July," said economists at Wells Fargo Securities in a research report.
In addition, analysts said gold prices were ripe for a pullback given the recent run-up.
"The sentiment has shifted somewhat," said Carlos Sanchez, a precious metals analyst New York-based specialty commodities firm CPM Group. "But I think what you're seeing is a lot of squaring up as investors exit from profitable positions."
Sanchez said he expects prices to consolidate around $1,700 an ounce before moving back toward $1,900 again later in the year.
Many analysts expect gold prices to remain supported by the murky outlook for economic growth in the U.S., unresolved sovereign debt problems in Europe and geopolitical concerns in the Middle East.
Foster said gold could top $2,000 an ounce within the next six months. "This is just some consolidation in an ongoing bull market," he said.