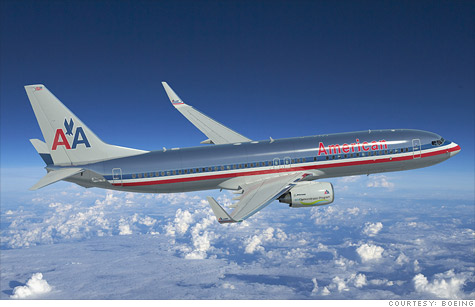 A spike in aircraft orders in July lead to a rare piece of good economic news Wednesday.
NEW YORK (CNNMoney) -- Strong aircraft orders in July resulted in a much stronger-than-expected reading for big ticket item orders, a rare piece of good news amid the string of disappointing economic readings in recent months.
The Commerce Department reported a 4% jump in orders for durable goods, compared to a 1.3% decline in June. Economists surveyed by Briefing.com had forecast only a 1.9% rise in the month.
A 43.4% spike in orders for nondefense aircraft and an 11.5% rise in new vehicle orders led the way to the better than expected result.
American Airlines (AMR, Fortune 500) announced a massive order for 460 aircraft on July 20. But only the 200 of the aircraft it ordered from U.S. aircraft maker Boeing (BA, Fortune 500) would have been counted in Wednesday's reading, because the other aircraft will be sold by Boeing's European rival Airbus.
Stripping out those results reveals a far weaker level of demand from businesses and consumers; orders excluding transportation goods rose only 0.7%. There were drops in new orders for such items as computers and electronics, machinery, communication equipment and fabricated metal products.
"Orders are certainly not as good as they look," said Paul Dales, senior U.S. economist for Capital Economics. "Nonetheless, they still suggest that business investment growth may actually accelerate in the third quarter." He said the 0.7% rise in non-transportation orders, rather than the 0.5% drop forecast by economists, was a "relief."
Still, non-defense, non-aircraft capital goods orders were down 1.5%. That category is typically used as a proxy for demand from businesses and therefore seen by economists as the core reading in the report. But Peter Newland of Barclays Capital said that is at least partly explained by the regular drop in orders in the first month of a new quarter.
"While we would play down the significant boost to orders growth from the volatile aircraft component, we would also play down the weakness of core orders given the apparent monthly pattern," he said.
The strong headline number and the modest gain outside of transportation was enough to cheer investors. While stock futures had been down, pointing to a lower significantly open, before the 8:30 a.m. ET report, major indexes opened down only slightly an hour later.