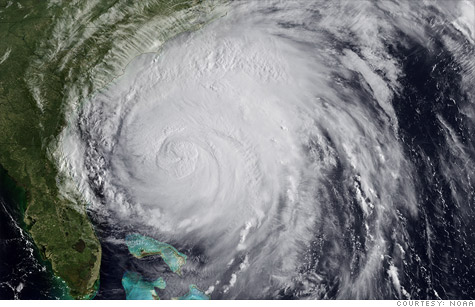 Hurricane Irene is leaving billions of dollars in damages in its wake.
WASHINGTON (CNNMoney) -- Hurricane Irene will leave billions of dollars in damages in its wake as it continues to move up the East Coast.
According to the most recent government model, projected economic loss from wind damage alone is forecast to top $1 billion. That's less than earlier estimates that topped $2 billion but it does not account for flood and other storm damage.
Hurricane Irene has been downgraded to a tropical storm, but the storm still packs a punch of 75 mph sustained winds.
The Federal Emergency Management Agency (FEMA) is closely monitoring Irene and urged people to "stay inside, stay safe" and "let the power crews do their jobs."
More than 4 million people up and down the Eastern seaboard are still without power. "For a lot of folks, the danger still exists," FEMA administrator Craig Fugate told CNN Sunday. "We still will have trees coming down, heavy rain, strong winds."
Hundreds of thousands of people have lost electrical power, and it will take time to get it all restored, Fugate warned. "I think some people will get power back rather quickly, but other people, it's going to be days," he said on the NBC program "Meet the Press."
In addition, Fugate said anyone evacuated in the storm that made landfall twice -- first in North Carolina on Saturday and again in New Jersey on Sunday -- should avoid returning to their homes until floodwaters have receded and emergency crews have cleared fallen trees and downed power lines.
"Don't go back yet. Let local officials give you the all clear," Fugate said.
Risk assessment firm Eqecat estimated losses for North and South Carolina would range from $200 million to $400 million.
So far, the estimates are nowhere near the $45 billion in private insurance damage that Hurricane Katrina left in its wake in 2005 not including flood losses, according to the Insurance Information Institute.
In hurricanes, damages are often caused by coastal flooding, which is typically covered only if you have federal flood insurance.
But damage can also result from gusts of wind that pick up and throw items like lawn chairs and tree limbs through windows. Fallen trees and utility poles can also damage houses and cars.
Damage from wind gusts, downed trees and the like is often covered by car or home insurance; consumers with damages should call their insurer about claims.
The Consumer Federation of America warns those facing hurricane damage to report claims quickly and keep detailed, thorough notes on the claim, as well as any receipts for expenses spent dealing with the damage.
"The Mid-Atlantic and New England have experienced damaging hurricanes in the past, and the growth in coastal population and property values makes today's storms even more costly," said Institute president Robert Hartwig in a statement on Thursday.
-- CNNWires contributed to this report