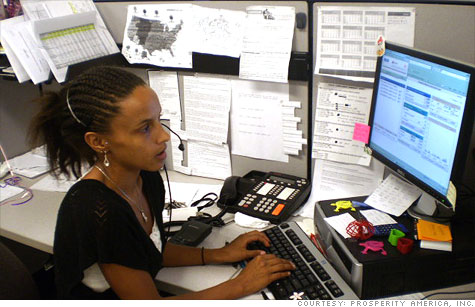 Georgia Works participants, like Alecia Blakely, have landed jobs after going through the training program.
NEW YORK (CNNMoney) -- Instead of collecting a check while looking for work, Georgia has a program to give the unemployed on-the-job training. It has caught the eye of President Obama.
The Georgia Works program allows those receiving unemployment insurance to be placed at a local company for up to eight weeks of training. Participants don't get paid, but they do get to keep their jobless benefits and receive a stipend of up to $240 for transportation and other expenses.
Obama, who is looking for ways to help the unemployed, particularly those who have been out of work for months or years, has praised the program. He is expected to unveil his job creation proposal in September. The Wall Street Journal has reported could it contain a similar initiative.
"There is a smart program in Georgia," said Obama on his rural bus tour earlier this month. "You're essentially earning a salary and getting your foot in the door into that company."
The program has received mixed reviews from unemployment advocates and economists though. Some question whether it really helps the jobless return to work, while others are concerned about the quality of training participants receive.
Also, the state has had to dramatically scale back the program as officials seek the money needed to continue it. Georgia Works' financial troubles began last fall when the labor department increased the stipend to $600, from $300, and opened it up to anyone without a job, not only those receiving benefits. That expansion essentially drained the programs of funds within a few months, forcing officials to cut back the stipend to $240 and restrict it once again to those getting unemployment checks.
Now, the unemployment funds used to pay the stipend must go to paying the interest on the state's loan from the federal government to cover benefits. So the department has basically stopped marketing it. There are only 19 trainees currently enrolled, down from 950 a year ago.
Since the inception of Georgia Works in 2003, more than 23,000 participants have completed training programs at more than 16,500 employers. A quarter of them were hired at the firm by the end of the eight weeks, while nearly 60% were employed somewhere within three months of completing the program, state labor officials said.
For employers, it's a risk-free way to test out a potential new hire. For the unemployed, it's an opportunity to learn new skills and demonstrate how valuable they can be to a firm.
"There are certainly many examples of where it has helped participants get a job as a result," said Sam Hall, spokesman for the Georgia Department of Labor.
Alecia Blakely is one of the program's beneficiaries. She was out of work for nearly a year after being laid off as an assistant manager at Domino's Pizza (DPZ) in 2009. Looking for a new field, she applied for a training slot at Prosperity America, a call center company in Columbus.
She had unsuccessfully applied for a few jobs at call centers before entering Georgia Works. After excelling in the training program, she was not only hired at Prosperity America, but promoted to supervisor less than a year later.
"Employers are more willing to bring you on for training," said Blakely, 24. They "are more open than if you just sent in your resume."
Prosperity America has trained more than 70 people since the firm was founded two years ago. It's hired 70% of those who've completed the program, said Fred Landrum, chief executive.
Like other firms, Prosperity America has to submit a training plan to the state's labor department for approval. Participants study the laws governing telemarketing and credit collections. They learn computer systems and the psychology behind recovering debts. They shadow employees, handle mock calls and participate in roll playing.
Georgia Works saves employers money since they don't have to pay participants' salaries while they learn the industry.
"We can have better trained people at a lower cost," Landrum said.
But the program has run afoul of unemployment advocates, who say that workers should be paid. Since participants are trainees, they aren't subject to minimum wage laws.
"Unemployment benefits are not equivalent to wages," said George Wentworth, senior staff attorney at the National Employment Law Project.
Their concerns prompted the U.S. Department of Labor to issue guidance to states last year to make sure they adhere to the rules surrounding job training programs.
Some economists also question whether a national version of the program will really help the long-term unemployed. They aren't impressed by the job placement figures.
It won't expand the number of jobs available and it may not give them suitable training, said Michael Reich, director of the Institute of Research on Labor and Employment at University of California at Berkeley.
"It needs more protection for workers to make sure they are getting training," Reich said.