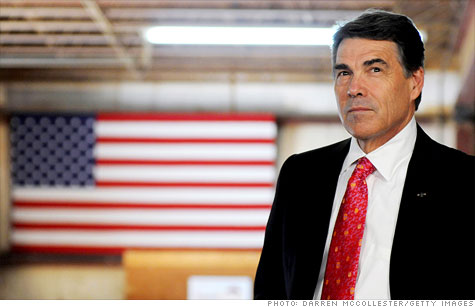 NEW YORK (CNNMoney) -- Rick Perry is not a fan of Social Security -- or is he?
The Texas governor and 2012 presidential candidate wrote in his 2010 book "Fed Up!" that the program is a "crumbling monument to the failure of the New Deal" that has been wrongly assigned a "mythical notion of salvation."
Social Security is an example of the federal government's over-reach and a benefit "clearly intended to be a permanent fixture of the entitlement state," he wrote.
And Perry often resorts to inflammatory language to pillory the program.
"It is a Ponzi scheme for these young people," he told an Iowa crowd over the weekend. "The idea that they're working and paying into Social Security today, that the current program is going to be there for them, is a lie."
Fightin' words, for sure.
But Perry is not advocating that Social Security be killed. Instead, his public statements indicate a willingness to consider a range of policy fixes that could return the program to a path of long-term solvency.
"I think we need to have a national conversation about how we can save the Social Security program that people expect to have as a retirement program in this country," Perry told reporters.
Perry's campaign told CNNMoney that the candidate wants to debate "options" to fix the system, which is "broken and unsustainable."
That stands in stark contrast to Perry's "Ponzi scheme" rhetoric.
"I don't think it's accurate to call it a Ponzi scheme," said Robert Bixby, the executive director of the Concord Coalition. "A Ponzi scheme is fraudulent and people don't know what's going on."
While Social Security needs to be reformed over the long haul, it has enough revenue coming in to be around for quite a while -- despite Perry's doomsday predictions.
"The program is going to be there," Bixby said. "He is right that it's not going to pay the promised benefits under the current formula -- but that is a different matter than the program not being there."
At the moment, the program will continue paying out 100% of the benefits promised until roughly 2036. After that, it would only be able to pay out three-quarters of promised benefits if nothing is done.
Perry even has some ideas of his own -- like hiking the retirement age -- to save it.
"We need to decide -- are we going to raise the age of eligibility ... and literally have this good, thoughtful conversation about the program and what we really want that program to be," Perry said in Iowa.
He also said a "means test" to limit payments to the rich should be considered.
While it's not clear what Perry's means test would be, President Obama's fiscal commission recommended a Social Security fix that would slow benefit growth for high-income earners.
"His ideas aren't out of the mainstream, but I hate when people resort to unhelpful rhetoric just to make a campaign speech," said Jason Fichtner, a former Social Security Administration chief economist who now works at the conservative Mercatus Center at George Mason.
Of course, with the exception of taxing the rich more, the staunchest defenders of Social Security rise in vocal opposition to any changes to the system -- and Perry has advocated in the past for the privatization of Social Security.
In his book, Perry wrote that individuals would have done better if allowed to invest savings on their own, rather than entrusting the money to the government.
And that would be a radical change to the program -- one that helped sink former president George W. Bush's Social Security reform plan.
Perry wrote that "if you say Social Security is a failure ... you will inherit the wind of political scorn."
That assertion certainly reflects traditional political thinking. But Fichtner thinks the public might be catching on.
"The public is starting to get smart to politicians who are using rhetoric to mask the debate," he said.