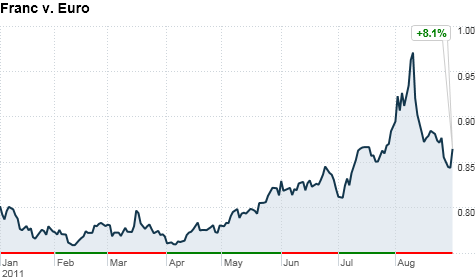 Click chart to track currencies.
NEW YORK (CNNMoney) -- The Swiss franc just won't quit.
The currency jumped more than 2% against the euro and the U.S. dollar Wednesday after the Swiss government announced a stimulus package that was smaller than investors had anticipated.
While the currency's strength diminished in August, it is still up 9% against the euro and 13.5% against the dollar so far this year.
The Swiss franc has appreciated as investors sought out safe-haven investments amid the waves of uncertainty that have hit markets this year.
But the currency's strength is causing major problems for the Swiss economy.
A strong franc makes Swiss goods less attractive to trading partners, and tourists -- a major source of income for Switzerland -- are less likely to visit.
"The largely overvalued Swiss franc against the euro and the dollar poses great challenges for certain export-oriented sectors ... like manufacturing and tourism," said Swiss economic minister Johann Schneider-Ammann earlier this week.
Complicating matters, the country's central bank chose to leave its money supply unchanged on Wednesday.
"Where the franc goes from here depends on what the Swiss National Bank does and developments coming out of the eurozone," said Brian Dolan, chief currency strategist at Forex.com.
In early August, the franc's sharp rise prompted the Swiss National Bank to step in to try and cool the rally.
The Zurich-based central bank cut interest rates to "as close to zero as possible" and boosted the supply of Swiss francs to money markets.
At the time, the bank said it considers the franc to be "massively overvalued," and that its strength "is threatening the development of the economy and increasing the downside risks to price stability in Switzerland."
Not that much has changed. The currency is still very strong, but the brief weakness in August might have given the central bank pause.
The Swiss National Bank "still has plenty of options" to control appreciation, Dolan said.
The bank could levy a tax on foreign deposits, making it more expensive for investors to hold francs. Or the bank could move to negative interest rates.
"The Swiss need to be continually applying pressure on markets to prevent another surge," Dolan said. "The more they step back, the more investors will move back into the franc."