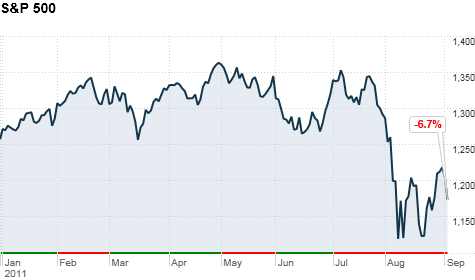 Click on chart for more market data
NEW YORK (CNNMoney) -- After a three-day weekend, investors will return to a market anxiously anticipating crises: a double-dip recession and a European debt crisis. Both have the potential to roil markets already on edge.
The threat of a recession grows stronger every day, and investors are analyzing every kernel of economic data for signs of a slackening in consumer purchasing or a continued downturn in hiring.
"Right now, we're in a situation where I think a lot of economists think that we're likely to avert a recession by a thin margin, but the threat is much higher than two months ago," says Stephen Freedman, the head of investment strategy at UBS Wealth Management.
In the prior week, economic reports highlighted both the wariness of consumers and the stalling job market: Consumer confidence fell to its lowest level since August 2009; and with net zero job growth, the economy clocked its weakest jobs reading since September 2010. Following Friday's jobs report, all three indices posted their sharpest one-day percentage drop in more than two weeks.
With just a few economic reports on tap after the Labor Day weekend, investors will be digging into any and all numbers for added granularity on the previous dismal readings on the health of the economy. In particular, weekly jobless claims data will take on added significance.
"We really need to get a sense of whether the labor market is hanging in there," Freedman said.
While investors monitor unemployment data, President Obama will address Congress on his administration's plan to resuscitate hiring in the U.S. But don't expect his words to move markets, as investors doubt whether any plan he proposes can move through the sharply divided Congress quickly.
Problems in Europe continue to threaten the global economy. U.S. investors will be eyeing both how European bond markets perform, and statements from major European leaders. Investors are looking for signs that both borrowers and lenders within the eurozone will cooperate to shore up confidence in the E.U. financial system.
But Monday's trading in Europe offered little cause for optimism. Markets across the continent suffered steep sell-offs, with London's FTSE 100 (UKX) index dropping 3.2% and France's CAC 40 (CAC40) falling 4%.
"There no resolution to the situation in Europe. The waves of fear just recede for awhile," says investment manager Randy Warren, who manages $75 million in assets for Warren Financial Services.
On the Docket
Tuesday: The Institute for Supply Management's manufacturing report for August will be released at 10 a.m. ET. Economists expect a reading of 51, down from July's reading of 52.7.
Auto parts retailer Pep Boys (PBY) will report quarterly earnings after the market's close.
Wednesday: At 7 a.m. ET, the Mortgage Bankers Association will release its weekly report on the number of Americans who filed applications. Last week the figure dropped 9.6%.
The Federal Reserve will release its September "Beige Book" at 2 p.m. ET. Investors will be watching, as the book offers a localized and anecdotal account of economic conditions in the United States.
Before the bell, retailer Talbots (TLB) will report. After the close, homebuilder Hovnanian Enterprises (HOV) will release its earnings.
Thursday: The Labor Department will release its weekly initial jobless claims report at 8:30 a.m. ET. Economists expect 400,000 Americans will file new claims for unemployment, after 409,000 were filed in the previous week.
July trade balance figures for the U.S. will be released at 8:30 a.m. ET. The numbers are expected to show a $51.5 billion trade deficit. In June the trade deficit was $53.1 billion.
Also on tap, the Federal Reserve's July consumer credit report will come out at 3 p.m. ET. The number is expected to fall to $5 billion from $15.5 billion in June.
Friday: July wholesale inventory figures will be released at 10 a.m. ET. Economists expect wholesale inventories rose 0.7%, after rising 0.6% in June, according to Briefing.com
Before the opening bell, retailer Lululemon Athletica (LULU) will report earnings.