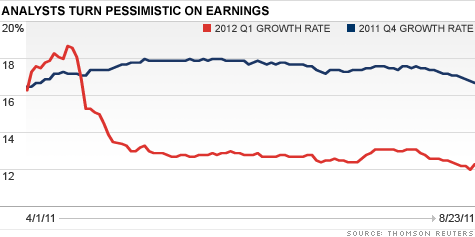 Analysts have been cutting back their earnings growth rates going into the fourth quarter of 2011 and first half of 2012 on concerns that the economy has to eventually impact corporate profits
NEW YORK (CNNMoney) -- Corporate America's strong earnings have been pushing stocks higher for more than two years now, but there are early signs that the momentum many companies have had in this miserable economy is beginning to fade away.
Seventy six companies in the S&P 500 have issued warnings that third-quarter earnings were going to be lower than previously expected, according to data compiled from Thomson Reuters. That's up modestly from the same period a year ago.
Meanwhile, stocks have fallen to levels where Wall Street is pricing in little-to-no earnings growth for the rest of the year. The target growth rate for S&P 500 earnings fell to 12% in the past week. That's down from 17% a year ago.
If earnings grow 12% this year, it would mark the slowest growth pace for earnings since the recession officially ended in 2009.
Companies that cut their earnings forecasts gave various reasons, but a central theme was the lack of certainty of where the economy is headed. Friday's jobs report showed the U.S. economy created no jobs in the month of August and the most recent reading on U.S. GDP showed the economy basically stalling at this point.
While both analysts and companies are cutting back their full-year forecasts, other more bullish investors think it might be too premature to do so.
"The market is overacting," said Kate Warne, chief investment strategist with Edward Jones. "Clearly the economy has taken a hit, clearly confidence is hurting, but the magnitude is nothing as big as it was in 2008."
Warne said, it's simply too early to make a decision that the uncertainty coming from Corporate America is real or simply a pessimistic outlook to match a pessimistic market.
"Stocks have sold off dramatically, but the business climate hasn't changed all that much," Warne said.
While several market strategists say stocks are simply oversold and the fear of corporate earnings dropping is overblown, there are signs that the positive momentum are at least slowing.
Binky Charda, chief U.S. equity strategist with Deutsche Bank, said he believes the earnings downgrades can be mainly attributed to CEOs and analysts trying to be overly cautious in what is a more-risk environment.
"The market has been skeptical of earnings growth for the past two years, so the recent pessimism is nothing new," Chadha said.
Despite the worries of a second recession, Corporate America's healthy profit margins should provide some insulation toward an economic slowdown.
The average profit margin on an S&P 500 company stood at a record 8.9% last quarter, according to data compiled by Goldman Sachs (GS, Fortune 500). While that figure is expected to drop slightly to 8.7% by end of 2012, Goldman analysts says it provides a lot breathing room for CEOs.
"Uncertainty has compelled executives to remain focused on efficiency," Goldman analysts wrote in a note to investors.
For example, Dell (DELL, Fortune 500), Urban Outfitters (URBN) and GameStop (GME, Fortune 500) all cut their sales forecasts for the rest of the year. All three companies kept their full-year profit forecasts however.
"The issue of margins is central to understand why earnings should not be impacted by a potentially-slowing economy as much as the market fears," Charda added.