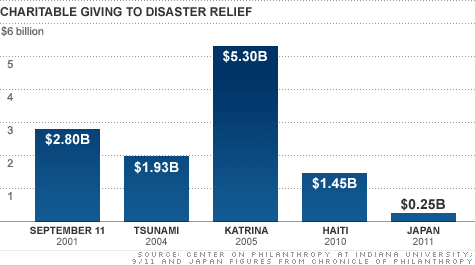 NEW YORK (CNNMoney) -- The terrorist attacks of September 11, 2001, inspired Americans to step up and help their neighbors like never before, donating billions of dollars to families who lost loved ones.
Americans donated a record-breaking $2.8 billion to help the victims of the worst terrorist attack on U.S. soil, according to the Chronicle of Philanthropy, a Washington-based news agency that tracks institutional charities like the American Red Cross.
Four years later, after Hurricane Katrina ravaged New Orleans and the Deep South, Americans pulled out their checkbooks once again. Donations to help the survivors of Katrina outpaced September 11 charity by 90%, establishing yet another record. (The 9/11 fund: Putting a price on life)
"September 11 was the first time there was such an outpouring for an event like that," said Michael Solomon, spokesman for the Chronicle of Philanthropy. "When Katrina came along, charities and donors were ready for that moment."
The years of experience that charitable organizations acquired in the wake of September 11 set the stage for an even more generous outpouring after Katrina cut a swath through Louisiana, Mississippi and other states, killing 1,723 people in what the Federal Emergency Management Agency called "the single most catastrophic natural disaster in U.S. history." Americans donated $5.3 billion to the victims of Katrina, according to the Chronicle.
Americans also donated nearly $2 billion to victims of the gargantuan tsunami that slammed into Indonesia and other parts of the South Pacific in 2004, killing more than 180,000 people. Closer to home, U.S. donors gave nearly $1.5 billion to victims of the apocalyptic earthquake that devastated Haiti last year, annihilating much of Port-au-Prince and killing more than 300,000 people.
"Americans on the whole are a very charitable people," said Solomon. "When they see people in need they tend to respond."
Americans donated a smaller amount -- about $247 million -- to Japan, after a 9.0 magnitude earthquake triggered a tsunami and a nuclear meltdown in March, killing more than 15,000 people. Donations to Japan were probably on a much smaller scale because it's an affluent, developed nation, Solomon explained.
"From the very beginning, Japan was saying, 'We've got this,'" he said.
While Americans have given billions of dollars to other countries in need, they do tend to dig even deeper in their wallets when caring for their own.
"When we have the disasters right here in the U.S., there is an overwhelming response," said Dr. Una Osili, director of research for the Center on Philanthropy at Indiana University. "The majority of the households give something to the victims or the survivors."
Osili said that 66% of U.S. households donated to the survivors of Katrina and September 11, compared to 30% who gave to victims of the Indonesia tsunami.
In particular, watching the Big Easy nearly get wiped off the map struck a nerve with most Americans.
"People see New Orleans as right in their back yard," said Solomon. "They have a personal connection. Maybe they've been there, or maybe they want to go there. Maybe they watch the Sugar Bowl. Maybe they cheer for the Saints, or against them, as the case may be."