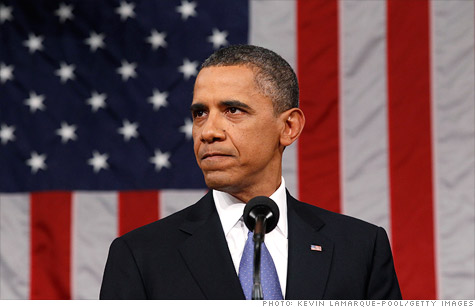 President Obama laying out his proposed jobs plan to Congress Thursday night.
NEW YORK (CNNMoney) -- Economists gave generally positive reviews to President Obama's jobs plan Friday, with some estimating that at least 1 million jobs could be added in the next year if Congress passes the package.
The payroll tax holiday for workers and small businesses was cited specifically for having a relatively good "bang for the buck." And that part of the plan may have the most bipartisan support.
"This additional spending capacity in the hands of consumers should continue to foster improvements in aggregate domestic demand. And ultimately, it is demand and demand alone that will lead to more business hiring," said Russell Price, senior economist for Ameriprise Financial Services.
Price estimates the increased payroll tax holiday for workers by itself is likely to add between 750,000 to 1 million jobs, and that the new break on payroll taxes for employers could add an additional 100,000 to 200,000 jobs.
He added that gross domestic product, the broadest measure of the nation's economic activity, could get a 1.5 percentage point boost as well.
Macroeconomic Advisors, a St. Louis research firm, estimates that payrolls would grow by 1.3 million by the end of 2012 and another 800,000 by the end of 2013, if the package passed as proposed. It is looking for a 1.3% rise in GDP.
Joel Prakken, chairman of Macroeconomic Advisors, said even if the impact to the economy is short lived, the jobs plan should be passed.
"Given the elevated risk of recession the U.S. faces today, additional near-term stimulus reduces that risk," said Prakken. "Given the deleterious effects of long-term unemployment on an individual's skills and long-term employment prospects, speeding a return to employment is both individually and socially beneficial."
Mark Zandi, chief economist for Moody's Analytics, is even more bullish, forecasting a 1.9 million job boost and a 2% lift for GDP if the package is passed as proposed.
Zandi said while pushing more money into the economy is the key, passing the jobs package could also provide a much needed boost of confidence at a time when the economy teeters on the edge of a new recession due to so much uncertainty.
"Investors, consumers and businesses appear shell-shocked by recent events," he said. "Confidence normally reflects economic conditions; it does not shape them. Yet at times, particularly during economic turning points, cause and effect can shift."
"Sentiment can be so harmed that businesses, consumers and investors freeze up, turning a gloomy outlook into a self-fulfilling prophecy. This is one of those times," he added.
But others aren't expecting as big of an impact.
David Wyss, an economist at Brown University, expects only about 600,000 additional jobs if the package passes. And Jeff Joerres, CEO of staffing firm ManpowerGroup (MAN, Fortune 500), said while there's a lot to like about the proposal, it shouldn't been viewed as the solution to a weak economy and labor market.
"We should be realistic about what it actually can do," he said. "When it comes down to it, the only way to create massive amounts of hiring...is sustainable demand for products and services. This is not going to create that."
Economists say one big problem with assessing the program is figuring out its chance of passage in the face of Republican criticism.
Keith Hembre, chief economist for Nuveen Asset Management, said he thinks the package could lift GDP by 1.5 percentage points and add 1 million jobs, but doubts Congress will approve Obama's proposal.
"It seems much more like a wish list than anything that is likely become law," he said.
-- CNNMoney's Poppy Harlow contributed to this report