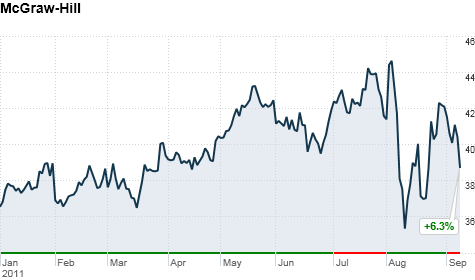 Click chart to see more on McGraw-Hill
NEW YORK (CNNMoney) -- McGraw-Hill said Monday that it plans to split into two public companies: McGraw-Hill Markets and McGraw-Hill Education.
In announcing its split, the company is bowing to pressure from two activist shareholders, Jana Partners and Ontario Teachers Pension Plan.
A McGraw-Hill spokesperson said the split was not a direct result of the activist shareholder's urging since a review of the company's business units had been underway since mid 2010.
The shareholders, which owned 3.3% and 2.3% respectively as of Aug. 23, have been pushing the company for a split up since early August.
McGraw-Hill's (MHP, Fortune 500) markets division largely focuses on providing information for investors in capital and commodities markets through the Standard & Poors' ratings agency, market research company J.D. Power and Associates, and energy information provider Platts. Its education unit offers both books and testing materials.
"Because both companies will be sharply defined, they will create two pure-play investment opportunities and present a more transparent capital markets profile, enabling investors to better assess their value, performance and potential, " said Harold McGraw III, the company's chairman and a member of the company's founding family.
McGraw will stay at the helm of the market's division, which generates 90% of the company's revenue, or an anticipated $4 billion in 2011. The company said it's currently conducting a search for a chief executive for the education division. The unit's current president, Robert Bahash, will stay on until the new CEO has been chosen.
"This is just what the doctor ordered," said shareholder Basu Millick, a portfolio manager with Neuberger Berman. "This is a great move by the management. We're pleased as shareholders."
McGraw-Hill also announced plans to repurchase an additional $460 million in shares in 2011.
While Jana Partners and Ontario Teacher's Pension Plan pushed for a break-up of the company, McGraw-Hill has so far only gone halfway there in acceding to the shareholders' proposals. The activist shareholders have been pushing to split the markets division into three separate parts.
Jana Partners said the split marks "vital steps in reversing years of underperformance at McGraw-Hill," adding it plans to continue reviewing the "scope and impact of these steps."
McGraw-Hill is currently working with Goldman Sachs (GS, Fortune 500) and Evercore Partners (EVR) to continue rationalizing its assets. The company says it will complete the spin-off of the education unit by the end of 2012.
When asked whether the split and plans for cost reductions would include layoffs, the McGraw-Hill spokesperson would only say that the company will "review all operational costs to ensure we have efficient operating structures."
Monday's moves from McGraw-Hill follow a headline-worthy August for the 123-year-old company. In early August, McGraw-Hill's ratings agency S&P downgraded the U.S. credit rating. A few weeks later, the company announced that the unit's president, Deven Sharma, would step down before the end of 2011.