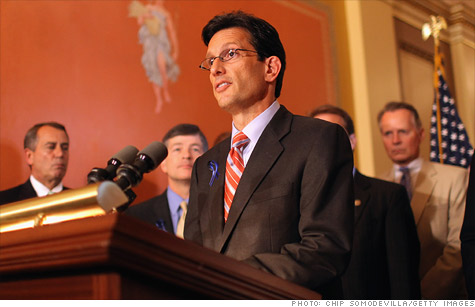 House Majority Leader Eric Cantor provided new insights into the GOP's reactions to the Obama jobs plan.
WASHINGTON (CNNMoney) -- House Majority Leader Eric Cantor critiqued the Obama jobs plan on Tuesday, pointing out areas lawmakers can agree on as well as areas that House Republicans will oppose -- including stimulus spending and tax hikes on the rich.
"We need to work very hard to try to peel off things that we can actually agree on," Cantor said at a summit hosted by the American Action Forum, a right-leaning think tank created by deficit hawk Doug Holtz-Eakin, a former Congressional Budget Office director.
Cantor provided new insight on Republican reaction to the $447 billion Obama jobs package that the White House officially sent Congress on Monday.
"Let's get some wins on the board together. And then we'll have to disagree to disagree on some of the things that will have to be decided in public debates in the next election."
One of those areas Republicans want to leave to voters: Tax hikes for the rich.
President Obama's largest proposed pay-for -- which the White House estimates would raise roughly $400 billion over 10 years -- limits itemized deductions and certain other exemptions for individuals with adjusted gross incomes of $200,000 or more ($250,000 and up for married couples).
Cantor said that's not going to happen.
"Republicans are not going to accept tax increases if the goal is to grow the economy," he said.
The No. 2 House Republican also elaborated a nuanced opposition to some details of the Obama jobs package that Republicans agree on in principle, like infrastructure spending.
The White House and some Republicans have talked about creating an infrastructure bank that would pair public and private dollars to finance projects that revamp roads and bridges. But Cantor blasted that proposal on Tuesday.
"I, for one, think that infrastructure bank is akin to creating a Fannie and Freddie for roads and bridges," Cantor said comparing the idea to the struggling government-owned mortgage finance companies. "It's something we don't need to do."
He said he'd rather see expedited permitting for such projects, which is included in the Obama package.
Cantor also provided new insight on the GOP view of extending unemployment benefits.
With 14 million workers jobless, Cantor acknowledged the enormity of the problem. But he doesn't believe in a no-strings-attached extension of unemployment benefits. Without going into details, Cantor said he'd favor an extension only if it were tied to "job opportunities."
"Unemployment benefits should not turn into a permanent solution," Cantor said. "We should somehow connect unemployment benefits with work or a job opportunity."
In his Tuesday speech, Cantor also pointed out areas of bipartisan agreement, like giving more generous tax breaks to small businesses and pulling back burdensome regulations.
President Obama has said he will push hard for his new jobs proposal to be passed in its entirety -- not piecemeal. However, the president won't veto pieces of the jobs package, if Congress passes them that way, a top Administration official on Tuesday.
Gene Sperling, director of the National Economic Council, said in a speech Tuesday also at the American Action Forum that the Obama's jobs package is a "plan that works best together."
But he added that the White House would consider a piecemeal effort as "partial progress, and [the president] would fight and fight and fight to get the other portions through," Sperling said.