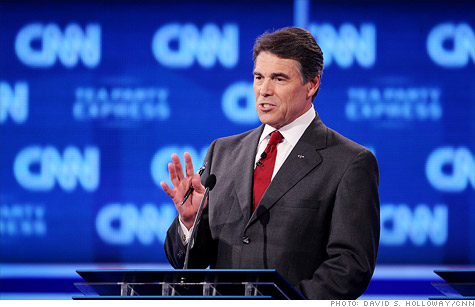 NEW YORK (CNNMoney) -- Social Security is still the third rail of American politics.
Yes, the electric rail. Just ask Rick Perry, who got a taste of high-voltage current Monday as he was forced to defend his characterization of Social Security as a "Ponzi scheme" at CNN's latest Republican debate.
Mitt Romney hammered the Texas governor. John Huntsman took a shot.
"It has been called a Ponzi scheme by many people long before me," Perry said in his own defense.
So far, Perry's characterization of Social Security has emerged as the most glaring chink in the frontrunner's armor. And his political opponents are well aware it is near-impossible to get elected while advocating for an end to the popular retirement program. (CNN Poll: Social Security needs changes, but it's not a failure.)
But Perry is not only saying Social Security is a terrible program. He is also arguing it should be preserved.
Indeed, his public statements indicate a willingness to consider a range of policy fixes that could return the program to a path of long-term solvency.
"It's time to have a legitimate conversation in this country about how to fix that program so it's not bankrupt -- and our children actually know that there is going to be a retirement program there for them," Perry said Monday night.
And that seems to be the campaign's official line.
Perry's campaign told CNNMoney late last month that the candidate wants to debate "options" to fix the system, which is "broken and unsustainable."
That stands in stark contrast to Perry's "Ponzi scheme" rhetoric -- which implies that the American people are being duped by a massive fraud.
Here are the facts: While Social Security does need to be reformed over the long haul, it has enough revenue coming in to be around for quite a while -- despite Perry's doomsday predictions.
At the moment, the program will continue paying out 100% of the benefits promised until roughly 2036. After that, it would only be able to pay out three-quarters of promised benefits if nothing is done.
It can be reformed. Perry even has some ideas of his own -- like raising the retirement age -- to save it.
"We need to decide -- are we going to raise the age of eligibility ... and literally have this good, thoughtful conversation about the program and what we really want that program to be," Perry said last month in Iowa.
He also said a "means test" to limit payments to the rich should be considered.
While it's not clear what Perry's means test would be, President Obama's fiscal commission recommended a Social Security fix that would slow benefit growth for high-income earners.
Of course, with the exception of taxing the rich more, the staunchest defenders of Social Security rise in vocal opposition to any changes to the system -- and Perry has advocated in the past for the privatization of Social Security.
In his book, Perry wrote that individuals would have done better if allowed to invest savings on their own, rather than entrusting the money to the government.
And that would be a radical change to the program -- one that helped sink former president George W. Bush's Social Security reform plan.
Perry wrote that "if you say Social Security is a failure ... you will inherit the wind of political scorn." Now that's the truth -- as Perry knows.