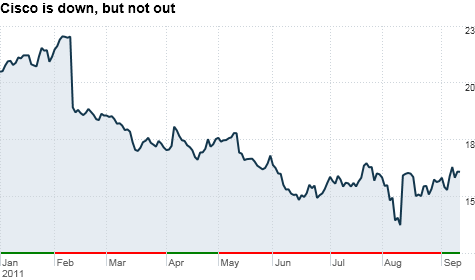 Shares of Cisco Systems are still off sharply in 2011, but they have bounced back in the past month despite broader market turmoil. Click chart for more on CSCO
NEW YORK (CNNMoney) -- Is the worst over for Cisco Systems?
While tech bloggers and investors have mercilessly beat up on Hewlett-Packard (HPQ, Fortune 500), Yahoo (YHOO, Fortune 500) and AOL (AOL) lately thanks to their numerous strategic and personnel mishaps, Cisco (CSCO, Fortune 500) has all of a sudden emerged as a beacon of stability in the tech sector.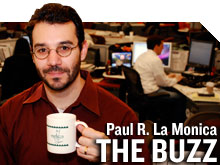 Shares have surged more than 20% from their 52-week low in mid-August.
During the same timeframe, HP has sunk nearly 30%. It hit another new 52-week low on Tuesday. And the broader market has continued to slide due to concerns about the debt crisis in Europe and the sagging economy in the United States.
So why is Cisco rebounding? Call me crazy. But having $44.6 billion in cash (or "caysh" if you say it like Cisco CEO John Chambers) probably doesn't hurt. The fact that Cisco seems to realize that it had to change also is helping.
Don't get me wrong: Cisco still is facing many serious challenges, most notably the fact that its core businesses of selling routers and switches is slowing. The company also has needed to deal with tough competition from upstarts like Aruba Networks (ARUN) and F5 Networks (FFIV).
But Cisco is at least addressing the fact that it's a maturing tech company.
The company announced plans in July to cut 6,500 jobs in an attempt to slash expenses by $1 billion.It's already jettisoned the Flip video camera business and is rethinking its bad decision to try and compete with the likes of Apple (AAPL, Fortune 500) in the consumer gadget market.
"We have moved with remarkable speed," Chambers said during the company's analyst day presentation in San Jose on Tuesday. He expects Cisco to take market share from corporate customers as rivals like HP and Juniper (JNPR) struggle. (Juniper's stock has actually lagged Cisco's this year.)
He specifically said that Cisco would aggressively go after Juniper, saying that "they are the most vulnerable" he has ever seen them.
Chambers added that his company was "fat" and had an extra "four or five inches on its waistline" -- especially in its sales force. He hinted that many of his competitors still have to make the tough decisions his company already has about restructuring
"Now we are going to transform even faster," he said. "We've made all our changes that our peers are going to have to make and we did it in 120 days."
Chambers stressed the emergence of mobile video as one of the key growth opportunities as well. No, not selling video cameras again -- but providing infrastructure that can help speed the delivery of video over networks. He called Google's (GOOG, Fortune 500) proposed acquisition of Motorola Mobility (MMI) a "gift" because it further validated the importance of cloud-based video services.
For all the criticism that Chambers gets for some miscues in the past year, you can't ignore the fact that he's built Cisco into a powerhouse with a balance sheet that most companies -- not to mention the governments of many developed nations -- would kill to have.
Cisco may no longer be a classic "growth" company. It's not Facebook. It's not Apple. And Cisco could get hurt in the coming months when you consider that about 20% of its revenue comes from public sector, i.e. government, spending.
But if you are a long-term investor, this isn't the end of the world.
Cisco now pays a dividend that yields 1.5% -- not that much lower than the yield on the 10-year U.S. Treasury.
And the stock, despite its move from the lows, still looks cheap.
Shares trade for only about 9 times fiscal 2012 earnings estimates. That includes all that "caysh" -- which accounts for more than half of Cisco's total market value. Excluding the cash, investors are valuing Cisco's actual business at less than 5 times estimates. Amazing.
So while investors still wonder about the future of HP, Yahoo and other Silicon Valley "leaders," Chambers can take solace in the fact that he and Cisco are no longer tied to tech's whipping post. Yes, the worst may finally be over.
The opinions expressed in this commentary are solely those of Paul R. La Monica. Other than Time Warner, the parent of CNNMoney, and Abbott Laboratories, La Monica does not own positions in any individual stocks.