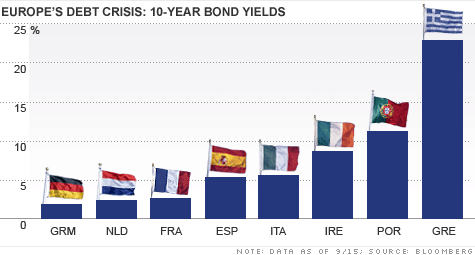 Euro bonds could help bring down rates in higher debt-ridden countries, but it would increase borrowing costs in other eurozone nations.
NEW YORK (CNNMoney) -- As Europe's debt crisis continues to intensify, calls for a bond backed by all 17 countries in the eurozone are growing louder.
But experts warn that euro bonds would not be the silver bullet to resolve all of Europe's money troubles, and even if they were, the idea lacks the necessary support from key European leaders.
In fact, the most fierce resistance comes from Germany, Europe's largest economy, and that alone makes the idea of euro bonds hopeless.
"Euro bonds are politically unworkable," said Michael Hewson, analyst at CMC Markets in London. "They would need to be ratified in all 17 eurozone states, and without Merkel's support, that's literally impossible."
German Chancellor Angela Merkel reiterated Thursday that euro bonds are the "absolutely wrong" way to defuse the European debt crisis.
In addition to Germany, Europe's other AAA-rated nations that use the euro, including Austria, France, Finland, Luxembourg, the Netherlands and Finland, have also rejected the idea.
Why is there such adamant opposition?
A euro bond would combine the debts of all 17 nations that use the euro, and make those countries collectively responsible to pay that debt.
That would mean Germany, which boasts a lean debt level of just 50% of its entire economy, would be taking on the debt load of Greece, which totals more than 150% of its economy.
While a euro bond would bring down borrowing costs for troubled countries like Greece, Italy, Portugal, Ireland and Spain, where yields are skyrocketing, it would also drive up rates in Germany, which is currently enjoying record low interest rates.
Plus, Merkel and and French president Nicolas Sarkozy have cautioned that the European financial system is missing the vital infrastructure and policies to ensure the success of a euro bond, at least in the near term.
"A euro bond wouldn't ensure that fiscal discipline will all of a sudden take hold," said Jürgen Odenius, international economist and investment strategist at Prudential Fixed Income. "It's a very questionable option unless there are mechanisms to guarantee that all the eurozone nations would maintain consistent and sustainable budget policies."
Without the right infrastructure to enforce financial responsibility, signing off on a euro bond would be "political suicide" for Merkel, said Odenius. Merkel is up for re-election in 2013.
So that still leaves Greece on the verge of a default.
"Greece is going to keep trying to meet its austerity targets, but its economy is shrinking, its debt load is getting bigger, and at some point, it's going to pop," said CMC Markets' Hewson.
"There's no mechanism to throw any country out of the eurozone, but Germany is hoping that Greece will eventually surrender and step out on its own," Hewson added.