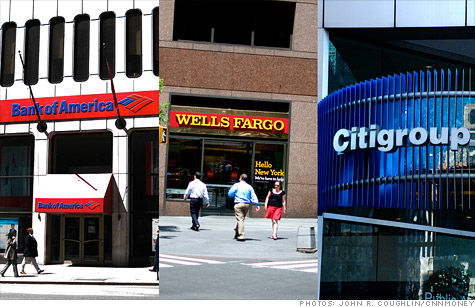 NEW YORK (CNNMoney) -- Moody's has declared the era of "too big to fail" over.
In yet another blow to the financial sector, Moody's Investors Services announced the downgrade of Citigroup, Wells Fargo, and Bank of America -- three of the United States' top banks.
Among the primary reasons: the U.S. government is less likely to step in to save a troubled financial institution.
"It is more likely now than during the financial crisis to allow a large bank to fail should it become financially troubled, as the risks of contagion become less acute," Moody's wrote in its downgrade note of Wells Fargo's stock.
Moody's downgraded Bank of America (BAC, Fortune 500)'s long-term debt two notches to Baa1, Wells Fargo (WFC, Fortune 500)'s long-term one notch to A1, and Citigroup (C, Fortune 500)'s short-term debt one notch to Prime-2. Moody's offered a negative outlook for all three.
"While we disagree with their conclusions and we believe our ratings should be higher, to minimize any potential impact of this decision on our business, we have been managing our liquidity carefully and we have prefunded our planned borrowing needs for the year," said a Bank of America spokesman.
With the exception of embattled Bank of America, which saw its shares fall 4.2% following the downgrade, the other banks' investors appear to have largely shrugged off the news. Wells Fargo's shares edged up 1%, while Citigroup's stock slid 0.2%.
"We believe that less than 1% of Citi's funding will be affected by the Moody's decision and the downgrade will not affect the short-term and long-term funding of our bank vehicles," said a Citigroup spokesman.
Moody's said that the U.S. government might be more likely to allow a large financial institution to fail because it the contagion could be viewed as limited.
The ratings agency also cited Dodd-Frank legislation as a reason that the U.S. government could opt for failure. The post-financial crisis legislation gives the FDIC a method to liquidate failed banks and hand over losses to bondholders.
Bank of America received the steepest downgrade from Moody's because of its exposure to problematic residential mortgage loans. Still, the ratings agency commended Bank of America's leadership for its "significant improvements to its capital and liquidity positions."