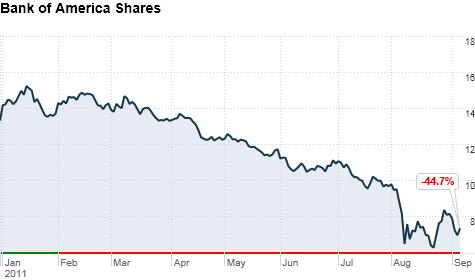 Click chart for more on Bank of America
NEW YORK (CNNMoney) -- Don't expect Bank of America to be America's neighborhood bank for long.
Late Tuesday, the Charlotte, N.C., bank announced a shakeup in its executive ranks that effectively split the bank into two units: one serving consumer and one serving commercial clients. Hundreds of bank branches are expected to close.
Industry analysts say Chief Executive Brian Moynihan's moves signal that broader and deeper layoffs than those previously announced by the bank could be imminent.
In what the bank called a "de-layering", Moynihan put two senior executives -- David Darnell and Tom Montag -- into the roles of co-chief operating officers.
Two of 13 senior executives -- Joe Price, the head of the banks consumer and small business banking division and Sallie Krawcheck, the head of wealth management -- were said to depart immediately.
With the removal of Krawcheck and Price, Moynihan effectively eliminated about 13% of his senior staff.
Investors cheered the changes. Bank of America's (BAC, Fortune 500) stock rallied roughly 5.6% to $7.38 Wednesday. Still, even with a modest rally, the bank's shares are down 44% this year.
It's been rumored for several weeks that Bank of America could announce headcount reductions of 30,000, or 10.5%, of its 285,000 employees.
Bank of America recently announced 3,500 layoffs to be completed by Sept. 30, in addition to 2,500 layoffs enacted earlier this year. A spokesperson declined to comment further.
"[Moynihan] has sent the markets a strong message by showing that he's reorganizing and streamlining the company from the top down and setting the bar at a much higher level for deep cuts," says Marty Mosby, an analyst at Guggenheim Securities.
Most of the cuts at Bank of America are expected to come from its unit focused on consumer banking. The bank is expected to shutter up to 600 branches.
At its investor day in March, Price had previously said that Bank of America, which had 5,742 branches as of June 30, could close some 10% of its branches "or maybe something less, slightly less than that over time."
By moving Darnell -- one of the company's top commercial bankers -- into the top spot on the consumer-focused area, Rochdale Securities banking analyst Dick Bove says Moynihan is putting someone in charge who can focus solely on cutting staff from that division without any personal conflicts.
"They need someone to shepherd the reduction in retail banking in, and Darnell doesn't have any personal commitments to people on the consumer side of the business," says Bove.
In its press release announcing management changes, Moynihan said that Bank of America also plans to announce Phase II of what it calls "New BAC," or a new and improved version of the embattled bank, in October.
Analysts say that the company's mentions of streamlining and assessing efficiencies are thinly veiled references to impending cutbacks in staff and locations.
Amid the staffing issues, BofA is also dealing with massive litigation problems. Back in June, the bank proposed an $8.5 billion settlement with investors in mortgage-backed securities -- stemming from troubled real estate loans made by Countrywide Financial, which BofA acquired in 2008.
The agreement was meant to settle with 22 investors, including the world's largest bond fund, Pimco (PTTRX), and the New York branch of the Federal Reserve.
But the agreement is subject to court approval, and it's facing opposition from state attorneys general, members of Congress and smaller investors. Last week the Federal Deposit Insurance Corp. filed an objection to the settlement.
Analysts say that Moynihan granted Darnell and Montag the title of chief operating officers to highlight their direct control of the two main operating centers. Moynihan can focus more clearly on litigation and stemming losses from Countrywide's mortgages.
"Moynihan's legacy really comes down to whether he can make progress over the next year or two on its residential real estate issues," says Mosby. "The board is saying, we need you focused on our overhang legal and financial issues."
BofA's stock got two recent spikes on upbeat news. Shares jumped 11% in one day two weeks ago, when Meredith Whitney said there's no urgency for BofA to raise capital. That same week, legendary investor Warren Buffett's Berkshire Hathaway (BRKB) announced a surprise $5 billion investment in the bank.