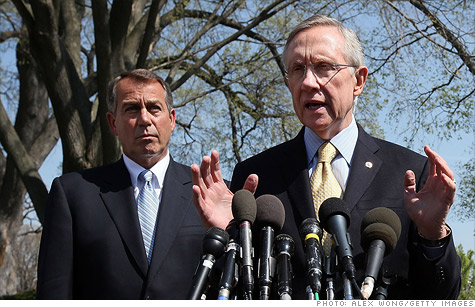 House Speaker John Boehner and Senate Majority Leader Harry Reid need a budget deal by Sept. 30 to avert a shutdown, which the economy doesn't need.
WASHINGTON (CNNMoney) -- In a year when lawmakers barely averted a federal shutdown and a default on its debts, Congress is poised to spread more uncertainty on an economy already suffering from a consumer confidence crisis.
The latest spat on Capitol Hill is over how to relieve disaster-struck states. It threatens to hold up a stop-gap budget measure needed to avert a federal shutdown when the new fiscal year begins Oct. 1.
Shortly after midnight on Friday, the House approved a spending bill that the Senate is expected to reject. Senate Majority Leader Harry Reid immediately called the House bill "not an honest effort at compromise."
Economists warn that such squabbles send the wrong signal from Washington at a time when consumers, markets and our global partners are befuddled by a "political system that looks manifestly broken," in the words of Treasury Secretary Tim Geithner at a Thursday forum sponsored by National Journal.
Washington policy analyst Brian Gardner said the current fight is far more drama than the nation and its economy needs.
"It's another complicating factor and it adds incrementally to uncertainty at the least opportune time," said Gardner, with investment firm Keefe, Bruyette & Woods.
Several economists told CNNMoney that few companies or investors outside the capital are closely watching the threat of a shutdown at this point. But they say that the world is looking to Washington for a sign that it's getting its fiscal house in order.
Economists say the world may have to wait a bit longer.
"Whether it's from Congress or the Fed, uncertainty is a huge problem for the economy," said Carl Riccadonna, a senior economist for Deutsche Bank. "It's just very hard to plan for the future, when you don't know the conditions or the rules of the road. That goes for companies, for investors and for households."
Keith Hembre, chief economist for Nuveen Asset Management, warned that uncertainty will continue to reign supreme in this economic recovery, in large part due to lack of "consistent fiscal policy" out of Washington.
"They're not consistent as to a way forward, and without that, policy uncertainty is going to be a factor" as we head toward next fall's election, said Hembre, a former Minneapolis Fed researcher.
Congressional veterans suspect lawmakers want to avoid another potential political crisis and get a budget deal, including money for disasters, in the next week.
They say lawmakers recognize the damage they inflicted, if not on the economy, then on their own plummeting popularity through the summer-long imbroglio over raising the debt ceiling.
Geithner blasted Congress on Thursday for inflicting "lasting damage" to the financial system during the debt-ceiling debate, during his appearance Thursday.
"We've got to work hard to heal that damage," Geithner said.