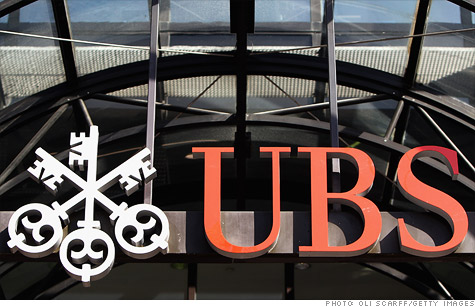 UBS CEO Oswald Gruebel resigns.
WASHINGTON D.C. (CNNMoney -- The chief executive of UBS Group resigned Saturday in the wake of a staggering $2.3 billion loss on unauthorized trades at the Swiss bank.
In a statement, UBS (UBS) said Oswald Gruebel will be replaced by Sergio Ermotti, a former top executive at Italy's UniCredit. The bank will continue its search for a permanent replacement, the statement said.
The move comes amid serious questions about risk management at UBS after the bank disclosed a $2.3 billion loss on unauthorized trades earlier this month.
Kaspar Villiger, chairman of the board at UBS, said Gruebel "feels that it is his duty to assume responsibility for the recent unauthorized trading incident." The decision to step down, Villiger added, "is testimony to his uncompromising principles and integrity."
The controversy centers on a 31-year-old UBS trader named Kwaku Adoboli, who has been charged by police in London with fraud by abuse of position and false accounting. UBS has not officially commented on Adoboli's arrest.
Brokers have told CNN the unauthorized trade in question at UBS was likely on an exchange traded fund (ETF) -- a structured instrument based on one or more underlying assets -- that is sold as a fund but trades like a stock.
The ETF in question was one which tracked the volatile silver futures market and was priced in Swiss francs, they say. Adoboli's job would have been to hedge, or reduce, the bank's risk on the silver and franc positions by buying and selling each.
It is thought that he may accidentally have left the Swiss franc vs U.S. dollar side of the equation uncovered and got stung when the Swiss national bank intervened to defend the franc in early September.
In any event, the incident has cast a pall over UBS as the bank struggles to rebuild its reputation following losses on mortgage-backed assets in 2008.
UBS said it will "fully support" the independent investigation into the unauthorized trading and will take steps to prevent it from happening again.
The bank also said it will accelerate its strategy to reform its investment banking activities.
"In the future, the investment bank will be less complex, carry less risk and use less capital to produce reliable returns and contribute more optimally to UBS's overall objectives," said Villiger.
--The CNN Wire Service contributed to this report.