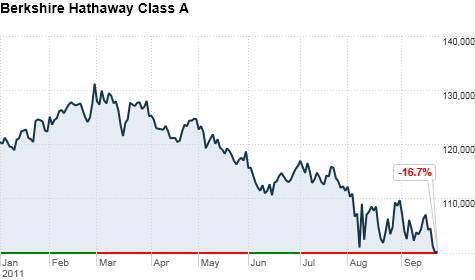 Click chart for more on Berkshire's stock.
NEW YORK (CNNMoney) -- Warren Buffett's investment fund Berkshire Hathaway said Monday that it plans to buy back its own shares.
Berkshire Hathaway's board authorized the Omaha, Neb.-based fund to repurchase an undisclosed number of shares at no more than a 10% premium of "then-current book value" book value of its shares, according to a statement.
The buyback program will continue 'indefinitely,' the company said.
Berkshire Hathaway said it would use cash on hand for these repurchases and that it would not make purchases that would move the fund's cash below $20 billion. The compay had $43.2 billion in cash, as of June 30.
"If we are correct in our opinion, repurchases will enhance the per-share intrinsic value of Berkshire shares, benefiting shareholders who retain their interest," the company said in a statement.
Several of Berkshire Hathaway's shareholders said that the reason for this share buyback is not a lack of opportunities for acquisitions in the broader market but because the company's own stock might offer the best value for Buffett.
"Warren Buffett's out there every day looking for deals and he's saying the cheapest thing out there right now is our own stock," said Peter Hessenbruch Havens, portfolio manager at Baldwin Management, which owns Berkshire Hathaway shares.
With $43 billion in cash on its balance sheet, Berkshire Hathaway will continue to have billions to deploy for potential deals, even with the buybacks.
While shareholders have eschewed Berkshire's shares for most of 2011, Class A (BRKA, Fortune 500) and Class B (BRKB) shares gained more than 5% following the buyback announcement. And the Class A stock is still up roughly 36% from its March 2009 low of $72,400. However, during that same time frame, the S&P 500 has jumped 67%.
News of Buffett's involvement in a new stock often sends share prices soaring immediately. However, Buffett's biggest investment of 2011 -- a $5 billion bet on Bank of America (BAC, Fortune 500) -- hasn't helped the bank's general shareholders yet.
On Aug. 25, 2011, when Berkshire Hathaway announced its investment, Bank of America shares gained 10%. Since then, the bank's shares have dropped below the $6.99 closing price on the day before Buffett's investment.