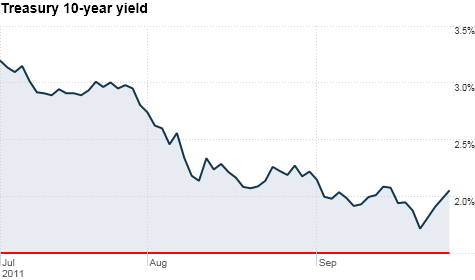 Click the chart to check the yield on Treasuries and other bonds.
NEW YORK (CNNMoney) -- The Federal Reserve may be gearing up to sell short-term Treasuries, but that's not about to stop nervous investors from buying them up as long as Europe's debt crisis lingers.
Demand has been surprisingly high in the Treasury Department's first debt sales since the Fed launched a plan last to swap out $400 billion in short-term Treasuries for longer term bonds.
In fact, this week's auction of $35 billion in 2-year notes drew in the most aggressive bidding in a year, allaying concerns that the central bank's so-called Operation Twist would drive away investors who were anticipating the Fed's selling.
"The fear trade is firmly in place, and it's feeding off the developments coming out of Europe," said Bill Larkin, fixed-income portfolio manager at Cabot Money Management.
Worries that Greece will default and set off a contagion of unfortunate events that will impact the global financial system have boosted demand for the perceived safety of U.S. government debt.
And while that flight to quality has pushed the yield on the benchmark 10-year note to a record low, investors are largely sticking with their strategy.
Larkin expects the auctions of longer-term Treasuries in early October will also be met with robust demand, even though 10-year notes and 30-year bonds are "extremely expensive" on a historical basis.
"Investors are willing to give away their capital for return that's even less than the inflation rate," he noted. "They'll pay any price for something they believe will be stable."
But eventually, the tide will turn.
As Europe follows through on plans to address the region's major financial challenges, that should relieve some of the uncertainty, said Larkin.
Though investors will still have to grapple with concerns about a slowing global U.S. economic recovery and gridlock in Washington, he expects Treasury yields will start to recovery, with the 10-year yield bouncing back to about 3%.
"Europe wants to get this situation behind them, and Washington will be wary about causing more havoc in the marketplace," Larkin said.