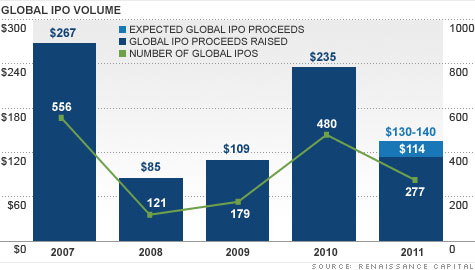 NEW YORK (CNNMoney) -- The outlook for initial public offerings is a challenging one, but there are glimmers of hope on the horizon.
There are some 330 IPOs in the pipeline looking to raise $180 billion, according to Kathy Shelton Smith, founder and principal of IPO research firm Renaissance Capital. More than 50 of those are hoping to raise $100 million, Smith said during a New York presentation.
However, given the current market volatility, a number of those IPOs will get postponed, Smith noted.
"We're in a very challenging period," she said, adding that 71% of companies that went public this year are trading below their IPO price.
Stocks have left many investors with a case of whiplash with their recent wild swings. The market's volatility index, the VIX (VIX), has doubled over the past three months.
"When volatility increases, it's impossible for IPOs to get done," Smith said. "You have to put a price on it and volatility makes investors shy away."
So far this year, $114 billion worth of IPOs have priced worldwide. That's down 8% from this time last year, and Smith estimates 2011 will end with about $130 billion to $150 billion worth of IPOs being completed -- a 40% drop from 2010.
U.S. companies have raised $29 billion through IPOs so far, with estimates for $35 billion to $40 billion by the end of 2011. That would be flat with 2010 and below the $50 billion average.
"We'll barely get back to normal levels of issuance" by the end of the year, Smith said. Since August, there have been 10 IPOs but none came from Europe or North America. The Asia-Pacific region, specifically China, has been the main growth region for IPOs.
Still, it's not as bad as it might seem. In 2008 and 2009, the IPO market all but dried up, with only $35 billion and $109 billion, respectively, being completed.
And, while it's true that this year's IPOs haven't been performing as well as many investors may have hoped, certain companies are faring better than others. Dunkin Donuts (DNKN), for example, is up 46% from its IPO price, followed by Zillow (Z), Carbonite (CARB) and Tangoe (TNGO).
As expected, offerings from financials and cyclicals are among the poorer performers, with shares of SunCoke Energy (SXC), Wesco Aircraft Holdings (WAIR), Apollo Residential Mortgage (AMTG) and American Capital Mortgage (MTGE) all down between 10% and 27% from their IPO price.
With the financial sector in particular taking a beating of late, it begs the question: Why would a financial firm go public in this environment? Some had little choice.
For example, Spanish banks Bankia and Banca Civica needed to raise money to meet new capital requirements, forcing them to go public 'under duress.' Bankia's stock is down 3% from its IPO price, while Banca Civica is trading 21% below its offering price.
But Smith said there are some strong contenders in the current pipeline, including U.K. soccer team Manchester United, Jive Software and Guidewire.
"We expect to see more secular, not cyclical, companies with recurring revenue," Smith said. "It's a market looking for growth where growth is hard to come by."
And it just got easier to track where that growth is coming from. Renaissance Capital and index provider FTSE Group launched a new series of indexes Tuesday to track IPO performance.
Typically, it can take up to a quarter for a newly public company to make it to a benchmark index. But the FTSE Renaissance Global IPO Indexes will be able to make those comparisons immediately.
The indexes, which include several regional indexes, comprise 518 constituents in 35 countries, with a total investable market capitalization of $420 billion.