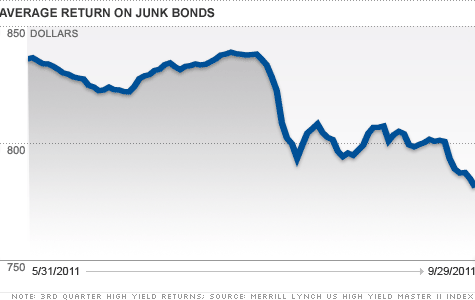 Junk bonds have been hit hard in the past few months -- much like the broader stock market.
NEW YORK (CNNMoney) -- Investors became so nervous in the past two months that they're not willing to gamble on risky junk bonds anymore -- despite the lucrative promise of high yields.
The junk, or high-yield, bond market has tumbled along with the stock market, which suffered its worst performance in three years.. Traders say it's eerily reminiscent of the months leading up to Lehman Brothers' bankruptcy in 2008.
In a world where it's remarkably difficult to find yield with 10-year U.S. government Treasuries yielding less than 2%, investors are still fearful of the risk associated with high returns.
"When its fear vs. greed, the fear factor is very much winning out," said Andrew Jessop, vice president and high-yield portfolio manager at PIMCO.
Before August, the high-yield market was soaring, and investors were on pace to generate annualized returns of roughly 11%. But shortly after the stock market started gyrating wildly in August, investors sold off even the safest of the junk bonds, which are those rated BB. These BB bonds are down roughly 5%, and the CCC bonds are down 13% for the year.
The sell-off in junk bonds moved more swiftly Friday, the last trading day of the third quarter. Traders said many hedge funds that have fared poorly in the past few months were rapidly selling out of positions in junk bonds.
Many lower-performing hedge funds fear that investors will soon ask for redemptions in the next few weeks. Hedge funds are selling off positions to store up cash to give it back to investors.
Some companies with risky bonds have been especially hard hit. Among the most battered companies: home builder Hovnanian Enterprises (HOV), ATP Oil and Gas (ATPG), Bank of America (BAC, Fortune 500), and Wynn Resorts (WYNN).
"There's been a bloodbath in the [high-yield] market," said Peter Plaut, senior vice president of fixed income at MF Global. "For a lot of the companies, there's no rationale for the sell-off."
Bond prices have dropped sharply because investors are fearful that some risky companies could default or even go bankrupt. But several hedge fund managers said banks are also less willing to take the other side of risky trades.
"Banks are being more conservative about allocating capital to risk," said James Keenan, head of leverage finance at BlackRock. Since the 2008 financial crisis, many large institutions have functioned less as so-called market markers.
Meanwhile, trouble could be coming for companies that haven't refinanced debt and have bonds that mature in the next year. "The high-yield refinancing market is closed for all practical purposes," said Oleg Melentyev, head of high yield strategy at Bank of America.
That could mean an uptick in bankruptcies for shaky companies with 2012 maturities if things don't turn around. Eastman Kodak (EK, Fortune 500), for example, has reportedly hired a law firm to help it restructure. But the troubled photography company has denied that it plans to file for bankruptcy.
Still, fewer companies are expected to file for bankruptcy than in 2008 because many proactively refinanced while it was possible.
The number and size of high-yield bonds issued in the first nine months of 2011 was up 43% from the same period in 2010 and hit the highest level since 2007, according to data provider Dealogic. Only 12% of these junk bonds were issued in the third quarter.
What's driving the mass exodus from junk bonds is largely the looming questions over how the European Union will handle a potential default in Greece and what other problems might arise if Greece does renege on its debt.
"You can see a path where if things are handled poorly then you have a replay of 2008," said Melentyev.