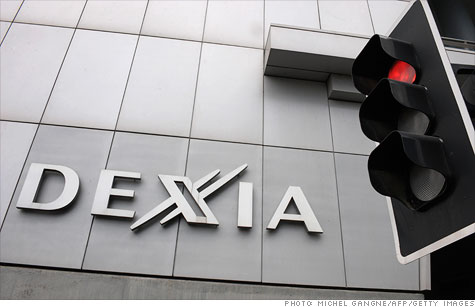 NEW YORK (CNNMoney) -- Greece's debt crisis may be an ocean away, but it's seeping into dozens of U.S. cities and towns thanks to troubled Franco-Belgian bank Dexia.
Dexia, which is rushing to implement a restructuring plan due to its exposure to Greek and other sovereign European debt, is also a player in the U.S. municipal bond market, though its role is now smaller than it was three years ago.
At the height of the financial crisis in 2008, Dexia backed about $54 billion in municipal bonds with lines of credit and so-called standby bond purchase agreements, which essentially made Dexia the buyer of last resort. Back then, Dexia was forced to buy back $17 billion in bonds, because of a lack of other buyers as investors fled from money market funds.
Today, Dexia said it only backs about $9.6 billion in muni bonds, since it has been exiting the business of providing liquidity to cities and states. That's just 0.3% of the $3 trillion U.S. municipal bond market.
And since money market funds have slashed their exposure to bonds supported by Dexia, leaving mostly hedge funds and other institutional investors as bond holders, the bank is on the hook for a lot less, too.
Dexia said it has only had to buy up $86 million of muni debt amid the recent worries about its future and the worsening European debt crisis.
"Dexia's role in the muni market is not nearly as big of a concern today as it was in 2008," said Matt Fabian, managing director at consulting firm Municipal Market Advisors.
Even if investors grow nervous and decide to get rid of the bond holdings that are backed by Dexia, the bank said it has enough liquidity to make good on its promises, said Tom Ceusters, New York-based managing director at Dexia.
Also helping matters is the fact that the French and Belgian governments said Tuesday they will step in to ensure the survival of Dexia by dividing up the bank and acting as the guarantor of its problem loans.
The chances that Dexia won't be able to buy back the muni bonds, say in the event of a bankruptcy and no bailout, are slim, says Fabian. But if that happens, nobody can predict the impact.
Dexia said it has alerted all its issuers that it is winding down the business, and expects to be mostly out of the U.S. muni market over the next couple of years, as securities mature and issuers refinance their debt with other banks.
In fact, Moody's Investor Services, which warned on Monday that it may downgrade Dexia again, said most issuers have already found replacements for the bank. Moody's originally downgraded Dexia in July. Then in August, the agency surveyed its rated issuers with exposure to Dexia and found that 80% of them had refinanced their debt with other banks to avoid higher interest payments.
"Dexia has been rather conservative in its credit selection, which is why the issuers haven't had trouble finding investors and other banks to refinance them," said Ceusters.
Those that were keeping Dexia until the expiration of their deal noted a variety of mitigating factors, including the fact that they had enough cash to cover the higher costs.