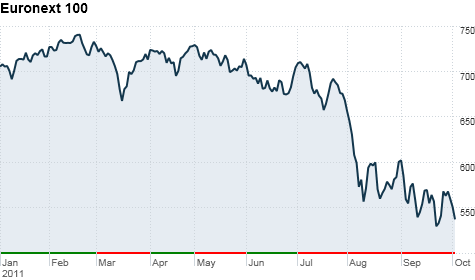 Click the chart for more world market data.
NEW YORK (CNNMoney) -- European markets were under heavy pressure yet again on Tuesday as ongoing concerns about the depth of the eurozone debt crisis spilled over into the banking system.
The DAX (DAX) in Frankfurt slumped 2.9%, the CAC 40 (CAC40) in Paris and London's FTSE 100 (UKX) both slid 2.6%.
The selling also hit Asian markets, with the Hang Seng (HSI) in Hong Kong closing down 3.4% and Japan's Nikkei (N225) falling 1%.
In Europe, bank shares were among the hardest hit amid speculation that Dexia Group could be broken up. Shares of the Franco-Belgian bank were down 24%.
Credit Agricole, Societe Generale, Royal Bank of Scotland (RBS) and Barclays all fell sharply, with insurance companies Lloyd's and AXA also under pressure.
The banking sector in Europe has been in the spotlight as investors fear a default by one or more euro area government could cause a banking crisis.
The fears have accelerated as banks have struggled to secure short-term funding amid a pullback in bank-to-bank lending.
The selling hasn't been isolated to European banks. Shares of U.S. financial firms have also taken a beating, with Bank of America (BAC, Fortune 500) falling below $6 for the first time since 2009 on Monday. Shares of JPMorgan Chase (JPM, Fortune 500), Citigroup (C, Fortune 500), Goldman Sachs (GS, Fortune 500) and Wells Fargo (WFC, Fortune 500) have also been slumping.
The selling comes as investors continue to grapple with the threat of a default by Greece. Eurozone finance officials met Monday in Luxembourg to discuss the nation's progress on fiscal reforms.
In a press conference following the meeting, Jean-Claude Juncker, who heads the group of euro area finance ministers, reiterated that a default by Greece will be avoided. But he also pushed back a decision on the latest installment of bailout money for Greece until November.
Juncker said a decision on the €8 billion tranche cannot be reached until officials have reviewed another report on Greece's progress on fiscal reforms. He said the Greek government has provided assurances that it will be able to meet its obligations in the meantime.
In response to a question about potential losses for banks, Juncker said "we have to take into account that we have experienced changes since the decisions we have taken on July 21."
The widely parsed remark was taken as a subtle hint that euro area officials are open to renegotiating the "haircuts" banks and private sector investors will be asked to take on Greek bonds.
Under an agreement announced in July, banks agreed to accept a 21% loss on the face value of the Greek bonds on their books. But many analysts say 50% haircuts may be necessary to put Greece on a sustainable path.
Olli Rehn, the top economic and monetary official at the European Commission, said talks with Greece are increasingly focused on budget goals the country will need to meet in 2013 and 2014.
The Greek government disclosed over the weekend that its budget deficit this year will fall short of the target it had agreed to under the terms of last year's 110 billion bailout.
The shortfall, while expected, has complicated the politically fraught negotiations over providing additional bailout money for Greece. But focusing on goals the country needs to meet years from now could make it easier for both sides to save face.
Meanwhile, Dexia said in a statement that it has accelerated a restructuring plan in light of "the worsening of the European sovereign debt crisis and the tensions on the interbank market."
Dexia's board has asked the CEO to work with French and Belgian authorities "to prepare the necessary measures to resolve the structural problems penalizing the Group's operational activities."
The move comes one day after Moody's said it had placed Dexia on review for a downgrade. The ratings agency said its decision "was driven by concerns about a further weakening in the group's liquidity position since Moody's last rating action on Dexia in light of the worsening funding conditions in the market."