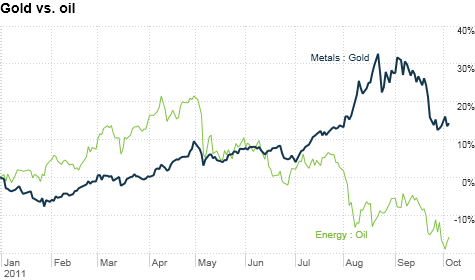 Click the chart for more commodity prices.
NEW YORK (CNNMoney) -- Commodity prices enjoyed a sharp bounce Wednesday, but the recent bearish trend is far from over amid growing prospects for a global slowdown.
Oil prices rebounded more than 5% to $79.68 a barrel, a day after settling at the lowest level in over a year. Investors were somewhat encouraged Wednesday by a government report that showed crude inventories surprisingly fell by 4.7 million barrels last week as well.
But prices are still down more than 30% from this past spring, when they were well above $100 a barrel. And though the move down has been choppy, experts largely agree that crude prices are likely to resume their decline.
"Oil prices continue to record large swings in both directions, but we are confident that the trend is downwards," said Ross Strachan, commodities economist at Capital Economics.
Oil has taken a beating as fears have grown that a slowdown in manufacturing around the world -- even in China -- and sluggish economies will weigh on demand. The same concerns have also strained prices of industrial metals like copper, aluminum, lead and zinc.
And a festering debt crisis in Europe has been adding to the pessimism. Concerns about the region have also been pressuring the euro, and in turn, strengthening the dollar. A stronger greenback drives down the prices of dollar-denominated commodities.
Silver prices have also eased during the last month, but the pullback hasn't been nearly as severe.
"Silver has been more volatile because of its dual nature," said Capital Economics' Strachan. "Many investors look to silver for its safe haven attributes, similar to gold. But silver is also used in the industrial sector, so those factors are pulling prices in the opposing directions."
Meanwhile, gold prices have retreated from their all-time highs above $1,900 per ounce. But prices are still up more than 14% this year, and are expected to continue to rise.
"It's primarily fared better because of its safe haven qualities," said Strachan. "As problems in the eurozone continue to exacerbate, gold prices will regain the momentum to go higher."