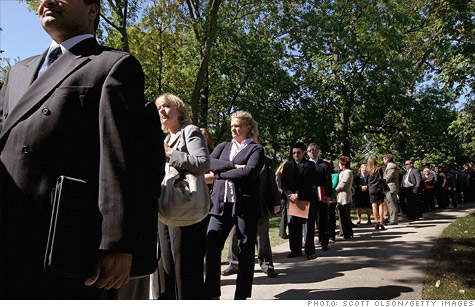 A pair of reports on the labor market released Wednesday show a blurry outlook.
NEW YORK (CNNMoney) -- A pair of job reports issued Wednesday show that the nation's employment picture remains cloudy at best.
Automatic Data Processing (ADP, Fortune 500), a payroll-processing firm, said private-sector employers added 91,000 jobs in September.
Economists surveyed by Briefing.com had forecast a much more modest addition of only 45,000 jobs in September. The number of jobs created in August was revised down to 89,000 from the previously reported 91,000.
While the increase isn't great, it could have been worse.
"It is a modest increase, probably not enough to keep the unemployment rate from rising, consistent with what we know has happened with GDP," said Joel Prakken, the chairman of Macroeconomic Advisors on a conference call with reporters. "On the other hand, this is a positive number and it doesn't seem to be getting any worse from the past couple months."
Small firms, with payrolls ranging from one to 49 employees and thought by many to be the engine of job growth, led the charge, adding 60,000 jobs, according to ADP.
Medium-sized businesses, with payrolls between 50 and 499 employees, added 36,000 jobs in the month, while the nation's largest businesses shed 5,000 jobs.
Additionally, almost all of the jobs were added in the service-producing sector. Of the 91,000 private sector-jobs added in the month, only 1,000 of them came from the goods-producing sector. "It is going to have to be the service market that leads the way," said Prakken.
The 45,000 Verizon workers that went on strike in August -- and then returned to work later in the month -- didn't affect the ADP report, noted Paul Ashworth, the Chief U.S. Economist of Capital Economics.
"If we factored in that adjustment, the ADP would be showing an acceleration to 136,000 in September," said Ashworth in a research note.
Cuts coming: But a separate report showed the number of announced job cuts more than doubled in September to 115,730 from August's 51,114, according to outplacement consulting firm Challenger, Gray & Christmas. That's the highest number of planned job cuts since April 2009, when 132,590 were announced.
Government workers faced the biggest hit, the report said, accounting for 54,182 of the announced reductions. The majority of those were military cutbacks and part of the U.S. Army's troop reduction plan.
Banks also accounted for a large portion of losses, with 31,167 financial job cuts announced in September. Bank of America (BAC, Fortune 500) took the biggest hit, with 30,000 cuts, as part of a plan to save $5 billion.
Employers have now announced a total of 479,064 planned job cuts so far this year -- up 16.5% from 411,272 cuts at the same time in 2010.
"It would be easy to look at the September job-cut figure alongside some of the other less-than-stellar economic news that has been reported lately, and draw the conclusion that the economy is indeed headed for a double dip," John A. Challenger, chief executive officer of Challenger, Gray & Christmas said in a statement. "However, it is important to keep in mind that 80,000 cuts, or nearly 70% of last month's total, came from just two organizations: Bank of America and the United States Army."
Both the ADP and Challenger reports typically set the tone for the government's highly anticipated monthly jobs report, which is due Friday.
A CNNMoney survey of 22 economists forecasts that the U.S. economy added 65,000 jobs overall, with the unemployment rate expected to remain unchanged at 9.1%. Typically, the economy needs to create about 150,000 jobs just to keep pace with population growth.