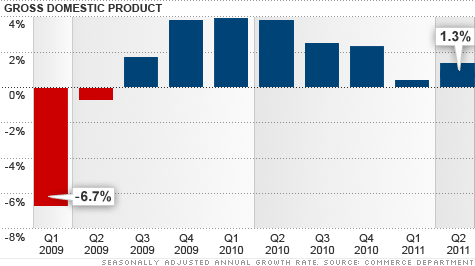 NEW YORK (CNNMoney) -- Economic growth remained very weak in the second quarter, but was slightly better than previously thought, according to the government's final reading on U.S. economic health.
Gross domestic product, the broadest measure of the nation's economy, grew at a 1.3% rate in the three months ending in June, the Commerce Department reported Thursday. That's an improvement from the 1.0% growth rate in the previous estimate from a month ago.
Economists surveyed by CNNMoney were expecting growth of only 1.1% in the final second quarter reading, and predict only 1.8% growth in the third quarter.
Growth of at least 3% is generally needed for the economy to produce enough jobs to meaningfully lower the unemployment rate. But economists are projecting growth to remain well below 3% through the end of 2012.
Heading for a double-dip?
The economists surveyed believe there is a one-in-three chance of the economy falling back into recession in the next six months. That's up from less than a 20% chance they predicted only three months ago. Of the 24 economists surveyed, three now put the chance of a recession at 50-50, while another seven say there's a 40% chance of a new downturn.
But the upward revision in second quarter GDP provides some hope that the U.S. will still be able to avoid a recession, especially since much of the improvement was due to a higher estimate on what consumers spent during the quarter.
Joseph LaVorgna, chief U.S. economist for Deutshe Bank, said the revision in spending and a separate upward revision in the estimate for corporate profits in the quarter were reasons to be hopeful.
"While the risk of recession has risen over the past few months due to stress in global financial markets; corporate profits are a leading indicator of economic activity and they continue to suggest that recession is not the baseline case," he said in a note.
But there still wasn't enough good news to in the report to turn around negative long-term outlooks for the economy, according to Paul Dales, senior U.S. economist for Capital Economics.
He warned that with households still working to reduce debt and the government likely to cut spending, "growth is unlikely to be as strong in the fourth quarter and beyond. We expect GDP growth of just 1.5% next year, which won't be enough to reduce the unemployment rate."