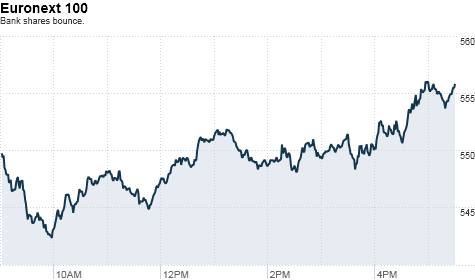 Click the chart for more data.
NEW YORK (CNNMoney) -- The gloom hanging over European markets lifted slightly Wednesday amid rising hopes for a government rescue of the continent's troubled banking sector.
Stocks in London (UKX), Frankfurt (DAX) and Paris (CAC40) rallied after European Commissioner Olli Rehn told the Financial Times that officials are exploring ways to pump more capital into banks struggling with liquidity issues linked to distressed sovereign debt.
"Capital positions of European banks must be reinforced to provide additional safety margins and thus reduce uncertainty," said Rehn, according to the FT. "This should be regarded as an integral part of the EU's comprehensive strategy to restore confidence."
The report sharply boosted shares of Dexia Group, Société Générale, Crédit Agricole, BNP Paribas, Royal Bank of Scotland and Barclays.
U.S. banks sat out the rally, with Bank of America (BAC, Fortune 500), Citigroup (C, Fortune 500) and JPMorgan (JPM, Fortune 500) all lower in active trading.
Shares of European banks have plunged this year amid fears that a string of defaults by governments struggling to pay down debt will lead to a banking crisis.
Greece is the most likely to face a default, but investors are increasingly concerned about Italy. Moody's slashed Italy's credit rating Tuesday, noting that the country will have to refinance more than €200 billion in debt next year.
The International Monetary Fund recently estimated that European banks face an overall credit risk of up to €300 billion stemming from bonds issued by Greece, Portugal, Ireland, Italy, Spain and Belgium.
On Wednesday, the IMF reiterated its call for "more comprehensive actions toward restructuring and front-loaded strengthening of banks' capital buffers."
The threat of a sovereign debt driven banking crisis has led to a pull-back in interbank lending.
In particular, some banks have had trouble securing short-term loans from sources such as money market funds. That has taken a toll on banks that rely on wholesale funding and do not have a strong deposit base.
Dexia Group, for example, has accelerated a proposed restructuring as sovereign debt and funding pressures have pushed the Franco-Belgian lender to the brink of collapse.
The governments of France and Belgium pledged Tuesday to support Dexia, which boosted the company's stock over 6%.
But analysts warn that the European banking system is still vulnerable to failures.
Meredith Whitney, an influential bank analyst in New York, said European governments will be forced to "pick winners" in the banking system and allow some smaller institutions to fail.
"There are a number of banks that just aren't going to make it," Whitney said in an interview with CNNMoney's Poppy Harlow. "The governments can't save all of the banks."
She said authorities will probably insure deposits for banks under stress, and take steps to stabilize the European payment system. Yet many banks that operate in just one country and are considered less "systemically important" will probably not make the cut, she added.
The cost of rescuing troubled banks could add up very quickly for European governments that are already stretched, said Carl Weinberg, chief economist at High Frequency Economics.
"A bank failure is never a good thing," said Weinberg. "Even if a mechanism exists to patch it up again, there is a cost, and that cost -- in today's environment -- will fall on the governments."
Weinberg said European governments will either need to cut spending or borrow money to recapitalize the banking system. In either case, the overall level of debt versus economic output of the European Union will go up, he added.
John Higgins, an economist at Capital Economics, said that banks could probably withstand a 50% reduction in the value of Greek bonds. But he said doing so could set a "dangerous precedent" for other nations to seek similarly large "haircuts."
Higgins estimates that a 50% writedown of bonds issued by Greece, Ireland, Portugal, Spain and Italy combined would amount to €290 billion.
"Injecting capital on this scale, let alone to deal with the banks' exposure to other troubled assets, would mean a massive transfer of risk from the banking sector to the public sector, magnifying investors' concerns about the sovereign debt crisis," he said.