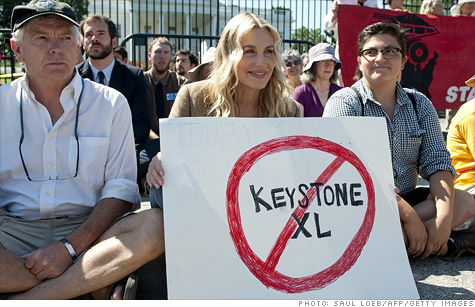 Actress Daryl Hannah protests the Keystone pipeline this summer. But jobs, money and oil will likely win out over environmental concerns as a decision on the controversial pipeline looms.
NEW YORK (CNNMoney) -- Jobs and energy prices will ultimately push the Obama administration to approve the controversial Keystone pipeline, analysts say, despite the protests and environmental concerns over expanding production from Canada's oil sands.
Stretching 1,600 miles from Alberta, Canada, to U.S. refineries on the Gulf Coast, the Keystone pipeline project would boost U.S. consumption from the Canadian oil sands, now more than 1 million barrels a day, by about 50%.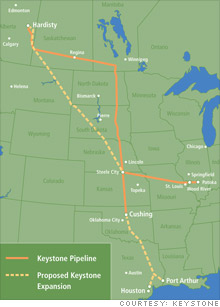 Because the pipeline crosses an international boarder, it needs approval from the State Department to get built. Over the last several weeks the State Department has held a series of public hearings on the matter, including one Friday in Washington, D.C., where both supporters and critics held dueling press conferences.
Protesters have been getting themselves arrested for weeks in front of the White House, and environmentalists have been urging the administration to reject the pipeline. They fear it will leak, and they oppose expanding production from the oil sands, which takes a heavier toll on the environment than traditional oil wells.
But analysts say their efforts will probably be for naught.
"We still anticipate State will approve the project by year end," Christine Tezak, an energy and environmental policy analyst at asset management firm Robert W. Baird & Co., wrote in a research note earlier this week. "The White House will cite national energy security, trade with a close neighbor, new jobs, and historically strict permitting requirements as justification for approval."
The environment: Wringing oil out of oil sands is a more intense process than tapping it through a conventional oil well.
All told, oil from oil sands produces between 5% to 30% more greenhouse gas emissions than traditional crude, largely because of the additional energy needed to heat up the tar-like substance to get it flowing like regular oil. The process also uses vast amounts of water.
In addition, much of the oil sands are mined like coal -- in massive open pits. These pits can leech toxins into waterways and are wildly unsightly when seen from any vantage point. It's hard to understate how large these operations are -- if clustered together, oil sands developments in Alberta would occupy an area the size of Rhode Island.
Companies producing oil sands, including ExxonMobil (XOM, Fortune 500), Royal Dutch Shell (RDSA), BP (BP) and Canada's Suncor (SU), have gotten better about mitigating some of the impacts, but problems remain.
The payoff: It's the economics that are likely to win the day.
TransCanada (TRP), the company trying to build the pipeline, estimates the project would create 13,000 construction jobs and 7,000 additional jobs making the steel, pumps and other necessary equipment.
The company estimates that over the project's life, which it generously pegs at 100 years, $20 billion will be pumped into the U.S. economy and $5 billion added to government coffers.
Supporters point out that the while the oil might be dirtier environmentally, it's from a more politically stable country: Canada is generally thought to have stronger human rights laws and a more transparent government than many other places the U.S. gets its oil.
Then there's the oil itself. The pipeline would bring in an additional 700,000 barrels a day. While the impact on oil prices might be minimal -- the U.S. consumes nearly 20 million barrels a day -- it would be something to at least point to in an election year.
"For the Obama administration, having an answer to high prices will be much more important in 2012 than it is today," said Kevin Book. managing director at the research firm ClearView Energy Partners. "We think it will get approved."
The Solyndra factor: The recent bankruptcy of solar panel maker Solyndra may also play a part in Obama's decision.
The administration has taken considerable heat lately for giving the company, a maker of advanced and unproven solar panels, a half-billion dollar loan guarantee -- which taxpayers will now likely have to pay.
It's hard to see how the Democrats would want to go into a campaign with a record of supporting one technology that ultimately failed, while halting another that's proven and could immediately create revenue and jobs.
They gambled and lost on "this type of newfangled solar energy," said Michael Franc, vice president of government affairs at the Heritage Foundation, a conservative think tank. "To then put the kibosh on 700,000 barrels of oil a day, in this climate -- that's a hard argument to carry."