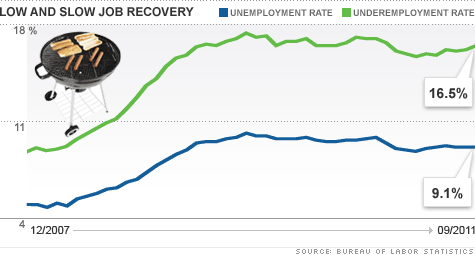 Even though the economy is growing again, the percentage of people out of work or without a full-time job is only slightly below the peak levels from the recession.
NEW YORK (CNNMoney) -- Summer may be over but it's still time to fire up the grill.
I've been referring to the tepid state of the economy as the barbecue recovery for more than a year now. It's going to be low and slow. (Should have trademarked it!) Friday's jobs report did nothing to change that outlook.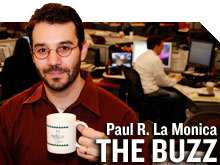 Yes, the good news from Friday's jobs report is that more jobs were added than expected in September. In addition, jobs growth figures for July and August were revised higher. Some feared that there could be a loss of jobs after the government originally reported that no jobs were added in August.
"Hopeful means not horrible," said Bill Seyfried, professor of economics at Rollins College in Winter Park, Fla.."We've lowered our expectations. The good news is simply that we're not losing jobs."
But the addition of 103,000 jobs in September is meager. It wasn't enough to make a dent in the unemployment rate, which remained 9.1%. That's not a good number.
What's more, the percentage of so-called "underemployed" workers rose from 16.2% in August to 16.5% last month. That's the highest it's been this year.
Then there's the issue of stagnant wages. The government said Friday that hourly earnings were up just 1.9% over the past 12 months. But according to the government's most recent readings on inflation, overall consumer prices were up 3.8% over the past year.
Even if you want to play the silly economist game of pretending that people are robots who don't need to eat or drive and strip out "volatile" food and energy costs, the so-called core inflation rate was still 2%. That means that people are not making enough to keep up with rising prices.
And as long as the unemployment and underemployment rates remain as high as they are, wages are unlikely to move up.
Hirers hold all the cards in the job market right now. If you have a job, you are likely to cling to it for dear life even if you're not happy about your salary. And if you're looking for work -- and have been for some time -- you're more likely to take a job that comes with a smaller paycheck.
"Salaries are flat at best. That's not indicative of a strong recovery," said Cam Albright, director of economic research with Wilmington Trust in Wilmington. Del.
"With high employment, there is no pressure for companies to increase wages and that's very much a problem. I think that's going to continue," Albright added.
That's what is so troublesome. Even if the economy doesn't technically double dip and head back into recession, it still feels as if the last recession never really ended.
"Some people are referring to this as a 'growth recession.' But if you are unemployed, it doesn't make a difference what this is being called," Seyfried said.
Albright said he expects the economy to grow at a less-than-2% annualized pace in the second half of this year and only in the mid-2% range in 2012. That's just not enough to make Americans feel better about the economy.
Nobody may like to hear this. But no matter what the White House, Congress and regulators do or don't do about taxes, stimulus, the deficit, interest rates or what have you, the sad reality is that the only real solution for this economic malaise is time.
It took decades of wanton spending by consumers and governments and reckless risk-taking by banks and other corporations before the economy finally seized up and stopped functioning normally. It will take years to get back to anything resembling a real recovery.
The consumer is still slowly "deleveraging" and the federal government is attempting to do the same. And while the only major bright spot in this economy is that many large corporations have repaired their balance sheets and are now reporting healthy profits, the notable laggard is the financial sector.
If banks continue to languish, they are not going to lend as much to small businesses that may be deemed risky borrowers. And that's going to mean more months of low and slow jobs gains.
"Growth is elusive. We are still dealing with the residual effects of the financial crisis. That will stay with us for awhile," Albright said.
Reader comment of the week. The biggest story of the week was obviously about Jobs with a capital J. The death of Apple co-founder Steve Jobs affected us all. And at a time when most Americans are still worried about their own jobs, one reader said that more companies should follow the lead of Apple.
"Let's focus on Jobs and learn from him maybe that's the solution to the jobs situation #learning," tweeted Ashley Garcia.
Great point. Considering that Apple had only about 8,400 workers when Jobs was renamed CEO of Apple in 1997 and now employs more than 46,000 people worldwide, I do think many companies can learn a lot from Apple.
The opinions expressed in this commentary are solely those of Paul R. La Monica. Other than Time Warner, the parent of CNNMoney, and Abbott Laboratories, La Monica does not own positions in any individual stocks.