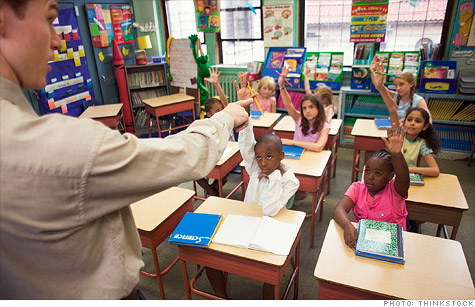 Teachers are losing their positions as local government jobs disappear.
NEW YORK (CNNMoney) -- The kids are back in school, but the teachers aren't.
Educators and other local government workers are not celebrating the rosier-than-expected jobs report released Friday. While the nation added 103,000 jobs last month, public schools lost 24,400 positions -- the most of any category. Local government in total shed 35,000 jobs.
Teachers continue to get pummeled as state and local governments digest budget cuts for fiscal 2012, which began in July in most states. School districts didn't have the funds to hire back as many employees as in past years.
The loss of government jobs continues to weigh heavily on the nation's economy. While the private sector has gained 1.3 million positions this year, the public has lost 267,000.
State governments, which had been downsizing most of the year, added 2,000 jobs in September. But state education workers did not fare as well, losing 1,400 positions.
State and local governments shed 90,000 jobs in the most recent quarter, the third largest loss on record. The sector has downsized for 27 of the past 33 months, according to IHS Global Insight.
However, it had been looking even more bleak, but Friday's report showed that July and and August weren't as dire as originally thought.
The sector only lost 23,000 jobs those months, not 81,000. The quarter had been on track to be the worst job loss ever for state and local government workers.
In September, the federal government lost 1,000 jobs, brought down by a loss of 5,300 postal service slots.
The weakness in the public sector is putting increased pressure on President Obama and Congress to funnel more aid to states.
One reason job losses are mounting is because the 2009 stimulus funds to states has essentially dried up. This money kept many teachers and public workers on the payroll during the depths of the Great Recession.
All that's left now are some funds from last summer's $10 billion in funding to keep teachers and first responders off the unemployment lines. That money, which was estimated to have saved 100,000 positions, will be gone by the end of the fiscal year.
Obama is looking to send more assistance to cash-strapped states. In his jobs proposal, unveiled last month, he included $30 million to stem the crush of teacher layoffs.
The White House estimates its current proposal will prevent up to 280,000 educators from being downsized.
But even if Congress sends more money to the states -- which isn't looking likely at this point -- the bleeding isn't expected to stop. The weakening national economy has prompted several states to lower their revenue forecasts, which means more budget reductions could be on the way.
Education will likely continue to bear the brunt of the cuts, especially since school districts make up 60% of local payrolls.
"That's the sector where there's the most meat to cut," said Greg Daco, principal U.S. economist for IHS Global Insight. "It's at all levels, from kindergarten to university."