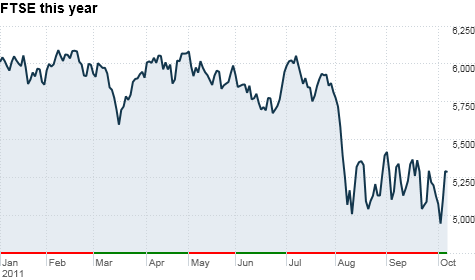 Click chart for more world market data
NEW YORK (CNNMoney) -- Moody's Investors Services downgraded 12 financial institutions in the United Kingdom early Friday, saying it's less likely that UK authorities will provide future support if needed.
The ratings agency's cuts included a one-notch downgrade of three major UK banks -- Lloyds, Co-Operative Bank, and the British arm of Spanish bank Santander -- as well as a two-notch downgrade of RBS and mortgage lender Nationwide Building Society. Seven smaller banks were downgraded by one to five notches.
Recent UK government announcements and actions "significantly reduced the predictability of support over the medium to long-term," Moody's said. The report added that UK authorities will likely continue to provide some support to "systemically important" banks, but they are now more likely to let smaller banks fail.
Shares of Lloyds (LYG) fell 2.4% in regular trading in London, while Santander (STD) dropped 1.7% and RBS (RBS) sank by 4.2%. Co-Operative Bank (CPBB.L) was down 0.2%.
Despite the downgrades, the FTSE (UKX) in London was flat in afternoon trade, as was Germany's DAX (DAX). The CAC 40 (CAC40) in France was 0.3% lower.
"On the one hand, the reaction of Moody's seems reasonable in light of talks for not raising the burden on taxpayers even further by a potential bailout," said Manthos Delis, a senior lecturer in banking at London-based Cass Business School.
But, Delis said, ratings agencies' main concern should be the strength of bank portfolios -- and "for the moment, [the UK banks' portfolios] seem to be in good shape."
Moody's also downgraded the senior debt and deposit ratings of nine banks in Portugal. The report cited sovereign debt concerns, the country's austerity measures and liquidity strains as the reasons for the downgrade. Back in July, Moody's downgraded Portugal's overall debt to junk status.
It's the latest in a string of downgrades from Moody's. On Tuesday the agency downgraded Italy's credit rating by three notches to A2 and assigned it a "negative outlook." Last month, Moody's downgraded eight Greek banks and two major French banks: Societe Generale and Credit Agricole.
Also last month, Moody's downgraded three major banks in the U.S.: Bank of America (BAC, Fortune 500), Wells Fargo (WFC, Fortune 500) and Citigroup (C, Fortune 500).
The downgrades are coming as the eurozone debt crisis drags on. It's been 18 months since the situation began attracting attention in global financial circles. In that time, the crisis has grown into the biggest challenge the European Union has faced since the adoption of the euro as its single currency 12 years ago.