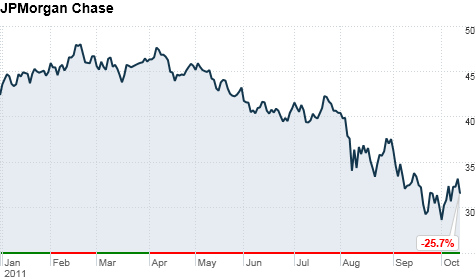 Click the chart to track JPMorgan Chase's stock.
NEW YORK (CNNMoney) -- Financial stocks weighed on the market Thursday after JPMorgan Chase reported disappointing results.
The hits keep coming for banks this year -- from exposure to credit and counterparty risk in Europe to a slowing IPO market and mortgage fraud-related litigations. Investors have been looking for the slightest clue of improvement, but coming up empty.
JPMorgan managed to beat the Street's already lowered estimates, reporting EPS of $1.02 vs. a consensus of 94 cents. But what looks like a solid quarter on the surface is actually hiding a profound weakness in some parts of the bank's core businesses.
Revenue from investment banking fell 13% in the quarter, as JPMorgan had previously warned. But trading profits were boosted by gains the bank realized after adjusting the value of certain derivatives to reflect a widening of credit spreads.
Excluding those gains, JPMorgan said fixed-income revenue fell 14%, while equity market sales dropped 15%. JPMorgan's (JPM, Fortune 500) stock fell more than 6% on the news.
Shares of other major banks are also bleeding and trading near 52-week lows. Bank of America (BAC, Fortune 500) and Citigroup (C, Fortune 500) were both down about 6% in midday trading; Wells Fargo (WFC, Fortune 500) and Goldman Sachs (GS, Fortune 500) were down 4%. All are scheduled to report earnings next week.
These are some of the popular themes on StockTwits Thursday:
fundmyfund: $$ So next quarter the banks will take a hit to 'income' as their bonds rally right? #FASB #JOKE
tradefast: $JPM CDS widened 15 bps this morning - post earnings - now around 145 bps
douglas_blake: $JPM ekes out a beat on dismal numbers. $XLF down as other banks typically fall below the "Dimon Standard". $$
OptionRadar: $JPM - This is why you ignore the headlines and dig deeper into earnings - noted this morning it was a poor report.
KidDynamiteBlog: JPMorgan "Profits" From the Declining Price of Its Own Debt. $JPM
upsidetrader: $JPM "beats" for 11th quarter in a row, all u have to do is look at the stock price over that period.. banks are dead.