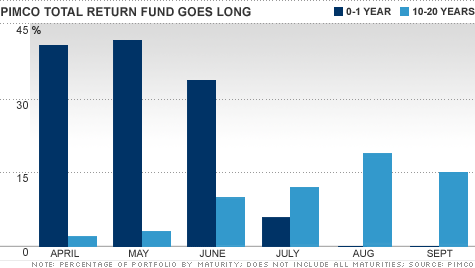 Six months ago, more than 40% of the Pimco Total Return Fund was invested in securities with a maturity of less than a year. Now, the fund is boosting its stake in long-term holdings.
NEW YORK (CNNMoney) -- Pimco's Bill Gross has already admitted that his bearish call on U.S. Treasuries earlier this year was a bad bet. Now it seems that the bond guru is taking his lead from the Federal Reserve.
Just as the Fed is doing with Operation Twist, Gross is shifting money from short-term bonds to long-term bonds in the Pimco Total Return Fund (PTTRX), the world's largest bond fund with more than $245 billion in assets under management.
Six months ago, more than 40% of the fund was invested in securities with a maturity of less than a year, and only 2% was invested in holdings with maturities between 10 and 20 years.
That short-term exposure has now been slashed to zero, and Pimco's long-term holdings have been significantly boosted, according to monthly data released by the firm earlier this week.
"What Pimco is doing now is very consistent with the Fed's actions," said Kim Rupert, fixed income analyst at Action Economics. "There's an old adage that says, 'Don't fight the Fed,' because it behooves you to trade in line with them."
The recent moves have also lengthened the average weighted maturity of the holdings in the Total Return Fund to more than seven years, according Pimco's data. Six months ago, the fund's effective duration was less than four years.
That swing suggests that Gross is confident that yields will fall, said Rupert, and it's a stark contrast to how he felt in February, when he slashed the fund's exposure to U.S. Treasuries, betting that yields would spike and prices would fall.
The fund's duration is now also much higher than that of the Barclays Capital U.S. Aggregate Index, a widely-used index of U.S. investment-grade bonds, which stands at about five years.
"The returns on shorter-date securities are so low, that it's basically just parking your money without earning any interest," said Rupert. "The rates on longer-dated bonds are also very low so it's not that much more of a gain, but it is if you consider the portfolio size of Pimco."
For example, the yield on a three-month bill stands at 0.025%, while the yield on the 10-year note sits at 2.23%.
Gross is also ramping up the fund's allocation to mortgage-backed securities, just like the Fed, which is reinvesting proceeds from its maturing investments in mortgage-backed securities.
The changes in Pimco's strategy come as the firm turns cautious and as the investors grapple with signs of a global economic slowdown and a worsening European debt crisis.
In addition to extreme market volatility over the last few months, Pimco CEO Mohamed El-Erian said a "series of unthinkables" have also become a reality, including America's credit downgrade and three eurozone countries with junk ratings.
As the U.S. and European economies struggle, Pimco is also building up its holdings of bonds in other international markets. As recently as June, the Total Return Fund was sitting out of emerging and non-US developed markets, but now more than 30% of the portfolio is allocated toward international bonds.
"It's never a good idea to put all your eggs in one basket, so this is probably a way to get some diversification in the portfolio," said Rupert.