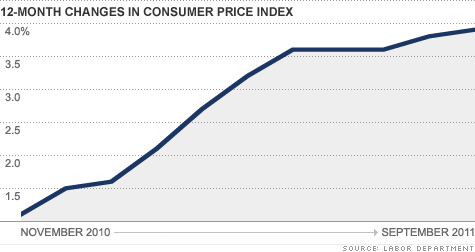 NEW YORK (CNNMoney) -- Inflation took a bigger bite out of consumers' wallets over the last 12 months, with September marking the biggest rise in three years.
But at the same time, monthly price increases are starting to slow.
The Consumer Price Index, the government's key measure of inflation at the retail level, jumped 3.9% in September from the year before. Higher food and energy prices again were the biggest culprits, with food 4.7% more expensive than a year earlier, and energy prices jumping 19.3%.
Even core CPI, which strips out volatile food and energy prices, posted a 2% gain -- the higher end of the range that is generally believed to be acceptable by the Federal Reserve.
But there were also signs that the pace of increase is abating. The one-month change in prices was a rise of 0.3%, down from a 0.4% increase in August. And monthly core CPI increased by 0.1%, down from the 0.2% increase from the previous month and the smallest rise since March.
Economists surveyed by Briefing.com had forecast a 0.3% rise for overall CPI in September, and a 0.2% rise for core CPI.
Higher prices this year will mean a 3.6% increase in Social Security benefits in 2012, the first increase for recipients since 2009. Little to no inflation following the financial crisis meant that seniors received no cost-of-living increases in 2010 and 2011.
Social security recipients aren't the only ones who have seen their income squeezed in recent years. High unemployment and weak hiring has kept average hourly wages down to a 1.9% annual increase in September. With prices increasing at nearly twice that rate, consumers are seeing their purchasing power erode.
And declining wages are not just a result of the Great Recession. Adjusted for inflation, middle class wages, as measured by median household income, have fallen 7% over the last decade.