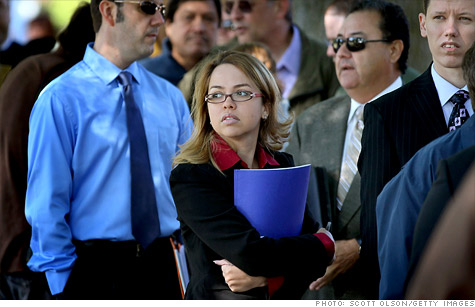 Job seekers wait in line to meet with recruiters at a job fair in Illinois last month.
NEW YORK (CNNMoney) -- New claims for unemployment benefits are persisting above the key 400,000 threshold, thwarting hopes for a thaw in the jobs market.
About 403,000 Americans filed for their first week of unemployment benefits last week, the Labor Department said Thursday.
While that's a slight drop from a revised 409,000 initial claims filed the week before, it still marks little improvement in the job market over the last six months.
Economists described the numbers as "thin gruel," "not great" and "painfully slow improvement."
The unemployment rate has remained at 9.1% since July, and without a bigger drop in claims, there's little reason to hope for much improvement. Economists often look to see initial claims fall below 400,000, to signal a lower unemployment rate, but claims have been stuck at around or above that level since April.
Meanwhile, 3.7 million people filed for an additional week of benefits in the week ended Oct. 8, the most recent data available. That's 25,000 more than in the week before.
State by state: North Carolina reported the largest increase in initial jobless claims, totalling 3,354 for the week ended Oct. 8, the most recent data available. Layoffs in the construction, transportation and warehousing industries were to blame.
California reported 2,527 new claims due to layoffs in services, as well as fishing, agriculture and forestry.
In contrast, Alabama, Mississippi and Florida reported fewer initial unemployment claims, due to a decline in layoffs.