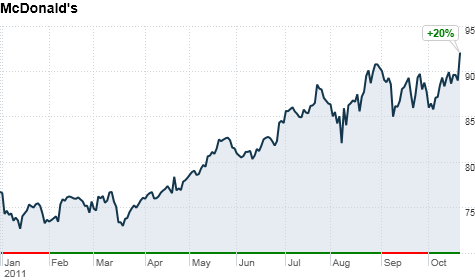 Click the chart to track McDonald's stock.
NEW YORK (CNNMoney) -- Shares of McDonald's are trading at a new all-time high after the global fast food chain managed to impress with strong earnings and sales numbers across all its markets.
Fast food chains tend to benefit during recessionary economic periods as many people scale back and trade down. Recent menu expansion and innovation is also a big factor, fueling McDonald's (MCD, Fortune 500) growth.
Chipotle (CMG) is also a fast food chain in its heart, but the industry is not the only tailwind going for them. The introduction of naturally raised and hormone free meat in its products appeal to a wide range of customers and help the company to ride on its own secular trend.
The Mexican restaurant chain reported 25% quarterly earnings growth due to higher same store sales. Its shares advanced more than 6% on the news and are trading near all-time highs.
These are some of the popular themes on StockTwits this Friday:
tradefast: This is large move for a stock like $MCD - global comp sales up 6.6% versus estimates of 3.9%
HowardWPenney: $MCD good news from the EURO ZONE "France, Russia, Germany and the U.K. led the segment's sales and operating income growth."
crazyfasteddy: $MCD killed their Q3! Of course they did... Nobody held back eating a Big Mac waiting on the new McRib... $AAPL
Retail_Guru: Chipotle beats revenue, eps forecasts. 11.3% traffic-driven comps show attractions of format to consumers; margins hurt by food costs. $CMG
All_InEquities: I love how people hate on $CMG reminds me of the camp i can't buy a stk at these high prices $ISRG $AAPL $AMZN & $CMG all cheap
GiveMeGrowth: $CMG is close to addictive, many are located on college campuses and they provide the freshest option. I eat there 3x/wk.