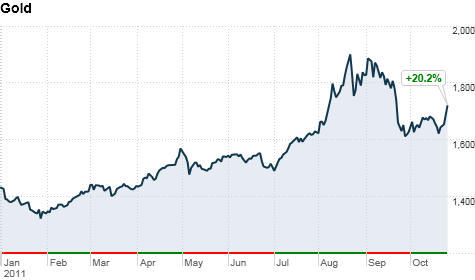 Click the chat to check prices of gold and other commodities.
NEW YORK (CNNMoney) -- Gold seems to be regaining its luster. The precious metal has rallied more than $100 in less than a week as investors turn to the precious metal as a safe haven amid concerns about Europe and signs of slow global economic growth.
The biggest move came Tuesday, when gold prices added nearly $50, or 3%, to top $1,700 per ounce for the first time in more than a month. Investors also poured nearly $564 million into the SPDR Gold Trust ETF (GLD), one of the most popular funds for investors seeking exposure to gold.
Prices gained another 1.4% Wednesday to settle at $1,723.50 an ounce, the highest level since Sept. 22. Silver prices have also rallied, surging more than 10% over the past four sessions.
The recent big moves have broken the link between gold and other risky assets, which had been moving almost in lockstep for two months.
"We're finally seeing gold prices move up in the flight to quality, along with bonds, the dollar and then yen, which is a positive for long-term investors," said Adam Klopfenstein, senior market strategist with MF Global. "When we weren't seeing gold rally in the face of economic uncertainty, a lot of investors didn't see the point of buying it, and moved to the sideline."
Now that gold has regained its longstanding status as a safe haven investment, Klopfenstein said prices will likely continue to move higher.
In fact, before the year is over, gold prices could reclaim record levels above $1,900 an ounce that were reached in August, said Carlos Sanchez, precious metals analyst at CPM Group.
"It looks like we're going to be dealing with continued concerns about Europe, because even though leaders seem to be working harder, we aren't going to get a resolution overnight," said Sanchez. "And even if the United States can avoid a double-dip, the data is showing that the economy is treading just above recessionary levels."
Rumblings of another round of bond buying from the Fed -- or QE3 -- is also likely stoking fears of inflation and helping gold prices, said Keith Springer, president of Springer Financial Advisors.
Fed vice chair Janet Yellen, Fed governor Daniel Tarullo and New York Fed president William Dudley have all recently hinted that another quantitative easing program could be on its way.
Meanwhile, oil and copper prices have been rebound from one-year lows hit earlier this month, as fears of a double-dip fade away.
"Economic growth is going to be slow, but recent data is suggesting that the chance of a double-dip recession is off the table for now," said Springer. "Oil and copper prices were factoring in the worst possible case, so now we're seeing a pick-up."
Oil prices have surged almost 14% in October, while copper prices have climbed more than 8%.