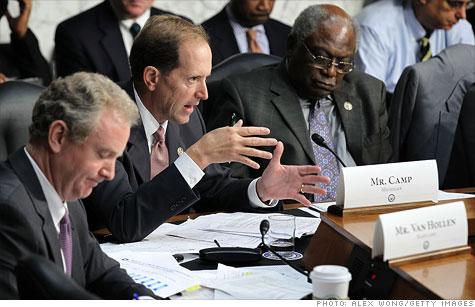 If debt committee members can only agree on $1.2 trillion in deficit reduction, the country's fiscal predicament won't improve much.
NEW YORK (CNNMoney) -- It's a big number and nothing to sneeze at -- $1.2 trillion. Unfortunately, when it comes to reining in U.S. debt, it's not enough.
That's why budget experts hope the bipartisan congressional debt committee will aim higher. To avoid triggering a series of automatic spending cuts, committee members have less than a month to propose at least $1.2 trillion in deficit reduction over 10 years.
But if that's all they do, it will barely move the needle on the country's fiscal predicament.
That's because under the most likely scenario, reducing deficits by $1.2 trillion won't stop the accumulated debt from growing faster than the economy.
The going assumption is that Congress will extend a host of expiring policies, such as the Bush tax cuts and the "doc fix" to prevent Medicare doctors' reimbursements from being slashed next year.
Thus, to stabilize the debt, Congress would need to pass a debt-reduction plan worth $4 trillion to $6 trillion, budget experts say.
Cuts on the higher end of that spectrum may be required to compensate for a bad economy, which can increase deficits..
Of course, the odds are long that the super committee will be able to agree on a big package. (Video: Super committee under pressure)
On Wednesday, news leaked that some Democrats on the super committee put forth a $3 trillion package.
Republicans rejected the proposal, however, because it relied heavily on tax increases, congressional sources from both parties told CNN. And liberal advocacy groups issued press releases bashing the plan for its reported cuts to Medicare.
Therein lies the second big problem with a $1.2 trillion package.
Lawmakers will meet resistance no matter how much debt reduction they propose.
And serious compromise will be required whether the super committee opts for $4 trillion or just $1.2 trillion.
In other words, Republicans will have to yield on their aversion to tax increases and Democrats will have to yield on their opposition to cuts in entitlement spending.
That's because practically speaking, it's hard to reach $1.2 trillion in spending cuts without touching Medicare. And politically speaking, it's hard to touch Medicare without including an increase in tax revenue.
In other words, getting to $1.2 trillion will be just as hard politically as $4 trillion. The only difference is if they only hit $1.2 trillion, they'll have to do it all over again soon.
"The public would see a package of tough choices and a debt burden that continues to grow," the nonpartisan Committee for a Responsible Federal Budget noted in a recent report. "In essence it would deliver political pain for not so much gain."

- CNN's Kate Bolduan, Deirdre Walsh and Ted Barrett contributed to this report.